Is your marketing team running behind on most projects? Marketing automation workflow can help free up your team and make sure that all tasks are completed on schedule.
This type of workflow automation boosts efficiency by automating basic tasks, permissions, and repetitive notifications, thereby freeing up time to focus on more important tasks.
What is marketing workflow automation and which types of marketing workflow automation can businesses use? Read on to find out.
What is a Marketing Automation Workflow?
Marketing workflow automation is the use of software to automate repetitive or monotonous marketing tasks such as customer segmentation, lead nurturing, and email campaigns. It also includes tracking customer behavior and interactions across all channels.
This type of automation is much more than just taking care of repetitive tasks. Aside from boosting efficiency, marketing workflow automation can help track workflow performance from end to end, and reduce errors. That said, the main goal of marketing automation is connecting the dots in every step of the customer journey - from the moment they first interact with your brand to their conversion and post-purchase experience.
By utilizing marketing automation platforms, businesses can automate manual processes, manage large volumes of data, build and maintain relationships with customers, and gain insights into customer behavior.
Things to Consider When Creating Marketing Automation Workflows
Before beginning the marketing automation workflow, there are a few things you must consider to ensure the success of your strategies.
Segmentation
Segmentation is grouping customers and leads based on their behaviors and characteristics. This allows businesses to better customize messages for each customer segment and create an even more personalized experience. According to McKinsey, businesses that have mastered personalized learning see a 46% increase in revenue.
You can segment your customer base based on different characteristics including:
Demographics (age, occupation, gender)

Location

Purchasing history

Psychographics (interests, attitudes, values)

Behaviors (click-through rate, page views per session)
Triggers
Another key component of a marketing automation workflow is triggers. Ask yourself: what will trigger an automated workflow once you have it in place? Triggers are the events that cause automated emails to be sent.
An event can be anything from a customer browsing products on your website, to an event like Black Friday or Monday, or even an anniversary date. The trigger will initiate communication with prospects and customers at the most relevant moments.
A/B Testing
A/B testing, also known as bucket testing or split testing, refers to a process of comparing two versions of content such as email or landing page content to see which one appeals more to your target audience. This type of testing helps you optimize your automated workflows for the best conversions, so that every customer interaction can be improved.
Some of the things that you can A/B test and refine to yield better results include:
Email body content

Subject lines

Calls-to-action (CTAs)

Personalization such as mentioning a customer's name
Analytics
You want to make sure that your automated marketing workflow is doing its job. Analytics will help you measure its effectiveness accurately. You need to incorporate tracking codes in emails and CTAs to accurately track leads, conversions, and revenue generated from campaigns. Analytics also enable you to spot trends and areas that need improvement so that you can take corrective action.
Communication Channels
Most importantly, you need to know what communication channels you will use to reach your customers using your workflow. Using a multichannel marketing strategy is more beneficial than single channel marketing.
Marketers who use multi-channel communication strategies realize a 24% increase in ROI while using more than four different channels can boost ROI by 300%. Your automated marketing workflow could feature emails, SMS messages, and social media posts.
Decide which channels are most effective for each step in the process and ensure that all of them tie together seamlessly.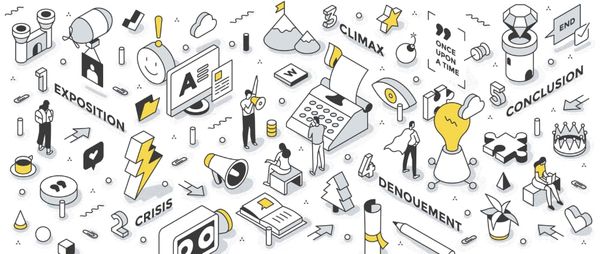 Examples of Marketing Automation Workflows
Now that we've gone over the components of a marketing automation workflow, let's cover some examples of how you can use them to better engage with your customers.
Welcome Workflow
A welcome workflow sends a series of triggered welcome emails to new customers who subscribe to your email list or sign up for an account on your website.
Usually, a welcome series includes at least two emails. One email welcoming the customer, and another one asking them to connect further. However, since you're looking to build trust and nudge a customer to purchase your products/services, a series of 3-5 emails works best.
The content of each email should focus on how the customer can get the most out of your product or services. The welcome series is an excellent opportunity to draw attention to any new products, special offers, and other updates you'd like them to be aware of.
Welcome emails have higher success rates than standard emails. They have a 4x higher open rate than other emails and a 10x higher click rate. Additionally, people who receive these emails are 33% more likely to interact more with your brand.
How do you write a great welcome email?
Show appreciation:

Thank the customer for signing up.

Make sure it's personal:

Personalize the message to sound as if it's coming from a real person.

Provide relevant information:

Include valuable content about your product or services, and explain how they can best use them.

Expect engagement:

Make sure that your welcome email is interactive so that you can measure the engagement and collect customer data.
Cart Abandonment Workflow
High cart abandonment rates affect your business's profitability. A cart abandonment workflow can help you minimize this loss and encourage customers to complete their purchases. This type of workflow targets visitors who have browsed through your products or services but haven't completed the checkout process.
It usually starts with an email sent soon after they abandon their cart, thanking them for visiting and reminding them of the items they left behind. The email should also include a link to their cart, making it easy for them to complete the purchase. Attractive cart abandonment emails:
Have

social proof

from previous customers

Include images of the products they left behind

Have a unique value proposition or discounts/special offers
Re-Engagement Workflow
Have you noticed that some of your customers are no longer engaging with your product or service? If that's the case, you should consider setting up a re-engagement workflow. A re-engagement workflow is used to reconnect with customers who have not interacted with your brand in some time.
There could be many reasons why a customer is no longer engaging with your brand including losing interest in your products/services, finding alternatives, or simply forgetting about you. The goal of a re-engagement workflow is to bring back inactive users and boost customer retention.
Research by Invespcro shows that getting an existing customer to re-engage with your brand is 5x cheaper than acquiring a new one. The first step towards a successful re-engagement campaign is identifying inactive customers, and finding out why they're no longer engaging with your brand.
Could it be that your messages need more personalization or your subject line isn't compelling enough? You can identify the reason by tracking a customer's last engagement with your brand and sending out an email asking them to re-subscribe if they haven't in a while.
Why is re-engagement important? Having customers on your list who don't open your emails affects your metrics. Also, it could signal that your emails are spamming and lead to deliverability issues.
Lead Nurturing Workflow
When it comes to nurturing leads, timing is everything. If you miss the window of opportunity to turn them into a customer, they may become cold and move on. A lead nurturing workflow keeps leads engaged while you wait for the right moment to convert them by providing helpful content that is tailored to their interests.
This can involve sending a series of emails, like a welcome email when they first sign up, and then ongoing emails with helpful content. You can also set up a series of automated messages on social media platforms to keep them engaged in the conversation and to build anticipation for upcoming products or services.
Another great way to nurture leads is through targeted ads that promote relevant discounts or special offers. Ads may be sent out when you detect a lead has become inactive or when they have expressed interest in a particular product or service. By timing these ads carefully, you can increase the likelihood of conversions.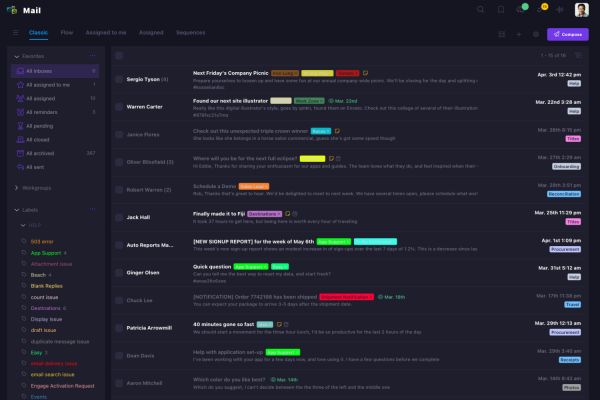 Final Thoughts
The power of marketing automation lies in its ability to create targeted and timely campaigns that communicate with potential customers at every stage of their journey. With the right automated workflow system, you can nurture leads more effectively and increase the chances of closing.
Triggered emails such as welcome emails are an important part of marketing workflow automation. Helpmonks can help your team better manage emails and effectively send personalized messages. Our email management system saves your team time and money and allows them to collaborate more easily on emails.