Email marketing uses email to promote products or services while developing relationships with potential customers or clients. Read about the perks of email marketing, methods to do it right, and how it compares to other marketing forms.
Key Takeaways
Email marketing is one of the most cost-effective ways to spread your message.
Email marketing is an effective way to increase sales.
Sending your email marketing to the wrong list can come across as spam that could impact your trustworthiness.
The cornerstone of good marketing emails is to optimized for mobile devices, respect the customers, and have engaging content.
Automated emails are a marketer's best friend and should be part of any email marketing campaign.
What Is Email Marketing?
Anytime a company sends out an email, it is considered email marketing, except order confirmations and customer questions responses. One segment of online marketing, which encompasses online marketing via websites, social media, blogs, etc., is email marketing.
Email marketing includes newsletters with updates on the company or promotions of sales and exclusive deals for subscribers. Organizations can also use marketing emails to share a general message on the company's behalf or a popular blog post.
Email marketing, done right, allows businesses to keep their customers informed and tailor their marketing messages to their audience.
Another part of email marketing is automated transactional emails. Some call these emails also triggered emails because an event or trigger has to take place for the email to be sent. These kinds of emails are real-time automated emails sent to users after a certain action takes place on a platform, app, or website.
How Email Marketing Work
The two most significant advantages of email marketing are price and ease. It's affordable to set up and track an email marketing campaign, making it one of the best friends for small businesses.
It's trivial to add a sign-up option for your email newsletter on your website and send useful information or promotional newsletters to grow your business and audience. Compared to other marketing types, emailing is an inexpensive way to advertise your company and its products or services.
A regular email newsletter is an effective way to send updates about your company, upcoming events, special offers and to stay connected. Email automation software also makes it easy to schedule automated promotional emails for customers who haven't purchased anything recently.
A good email marketing strategy allows you to target particular groups of customers or specific individuals. Offering individual customers special birthday deals on merchandise or services is one way to do this another is a particular call to action, e.g., provide a discount or sale.
For instance, an eatery might send an email to customers on their birthdays, offering 50% off. Creating such a personalized approach to email marketing helps a business develop and maintain a relationship with the customer—and that can lead to increased sales and customer loyalty.
Contrary to a regular email newsletter, an automated email campaign, aka targeted emails or drip email campaigns, will send a timely message based on an event. These targeted emails are used to message the users based on an event, e.g., the customer has abandoned the shopping cart. Experience has shown that a smart approach to marketing automation yields a great return on investment.
Why email marketing is important
In the age of Facebook, Instagram, and Twitter, it's tempting to write off email. However, there is evidence that it remains an essential aspect of marketing efforts. For instance:
Experts from the email marketing company Litmus estimates that email marketing returns an average of $42 for every $1 spent.
One survey found that 59% of respondents were influenced by email when it came to purchasing decisions.
A study in 2019 of more than 1 billion shopping sessions found that email marketing has a conversion rate of 2.3%, compared to 1% for social media.
Email is accessible to all age groups and lasts longer than a social media post.
Email marketing is extremely cost-effective.
One huge advantage of using email over social media is that customers are more likely to see an email than social media. Social media posts are short-lived and depend on users being available to see your message. On the other hand, an email will sit in your inbox until it's read.
Speaking of social media, adding social media "Like" or "Share" buttons to your marketing emails gives customers an additional way to connect with your brand. Positive reviews from social media fans can be included in emails, and social media posts can drive customers to your email newsletter.
Email Marketing Strategies
Effective email marketing takes effort and time. Here are a few strategies to get the most of your email marketing campaigns.
Build your mailing list
Take time to build your audience and make sure that your subscribers agreed to get news from you. Do NOT buy an email list. Sending an unsolicited email just turns most of the people away instead of turning them into customers.
Grow your mailing list with content upgrades and lead magnets
Everyone likes discounts or to feel special. Hence, nothing makes a mailing list grow faster than premium content.
If you have an exclusive ebook, report, checklist, or infographic, make it available to download for free in exchange for their email address. Another option is to provide special offers and discounts to newsletter subscribers only. Many brands offer discounts on your first order when you subscribe to their newsletter.
Mix Up Your Messages
Send relevant information and share your know-how. Use your emails to build a relationship with customers by sharing your expertise, giving them tips and insights they can value. Doing so will increase your click-through rate manifold. If you only send advertisements, you will quickly lose your subscribers.
Respect Your Subscribers
Treat your list well. Make every member feel special. In order to convert them from a customer to a fan or even evangelist create a customer relationship with each subscriber. After all, you don't want to see a high unsubscribe rate each time you are sending a new email campaign.
Satisfy expectation by following a schedule
We recommend sticking to a schedule for sending an email newsletter. Sending out an email on the same day (or days) every week will help your subscribers know what to expect from you and when.
Optimize for Mobile
Studies by marketing analysts with the company Litmus have consistently found that just under half of all emails are opened on mobile devices. If your email doesn't display correctly on mobile platforms, half of your audience will think you don't know how to craft an email.
How to launch your first email marketing campaign
Choose the right email marketing software.
Finding the right email marketing solution is more challenging than ever with so many vendors. Many try to get your business with all kinds of features that you might never need. Helpmonks Engage is part of your shared emails, making it very easy to start email newsletters and marketing automation.
As you're exploring all your options, you'll notice most providers base their pricing on the number of subscribers. Many email marketing solutions will try to lure you in with an affordable entry plan for a small number of subscribers. The catch? The prices tend to jump significantly once your list grows beyond these limits, as is the case with Mailchimp, constant contact, and similar tools.
Several providers offer free plans, also. Helpmonks recently introduced Helpmonks Engage – which includes Live-Chat and Email Marketing tools for a fraction of other tools' price.
The relatively high prices for sending email newsletters are among the many reasons we've created Helpmonks Engage, including sending an email campaign to thousands of subscribers, even in the basic plan. Besides, you will get a Live-Chat tool as well.
Segmenting your distribution list
As mentioned above, you should only ever send your email newsletter to recipients who agreed to receive updates from you. Anything else will quickly harm the reputation of your business.
A significant aspect of getting people to interact with you is by segmenting your mailing list. Segmenting your mailing list allows you to send targeted email messages on specific topics your users want to read. It's a powerful marketing strategy that experienced marketers use. I encourage you to read our latest post on mailing list segmentation.
Build a responsive-design email
Most email marketing service tools have some form of email editor for your email design and email template gallery to choose your email design. Most of the time, you can copy an email template and then customize it further.
The most important thing is to test that your email design works on all devices and looks great on any email client on the desktop, tablet, and mobile devices.
For example, in the Helpmonks Email Marketing Campaign tools, you can choose from several email templates and preview your content on the desktop, tablet, and mobile device.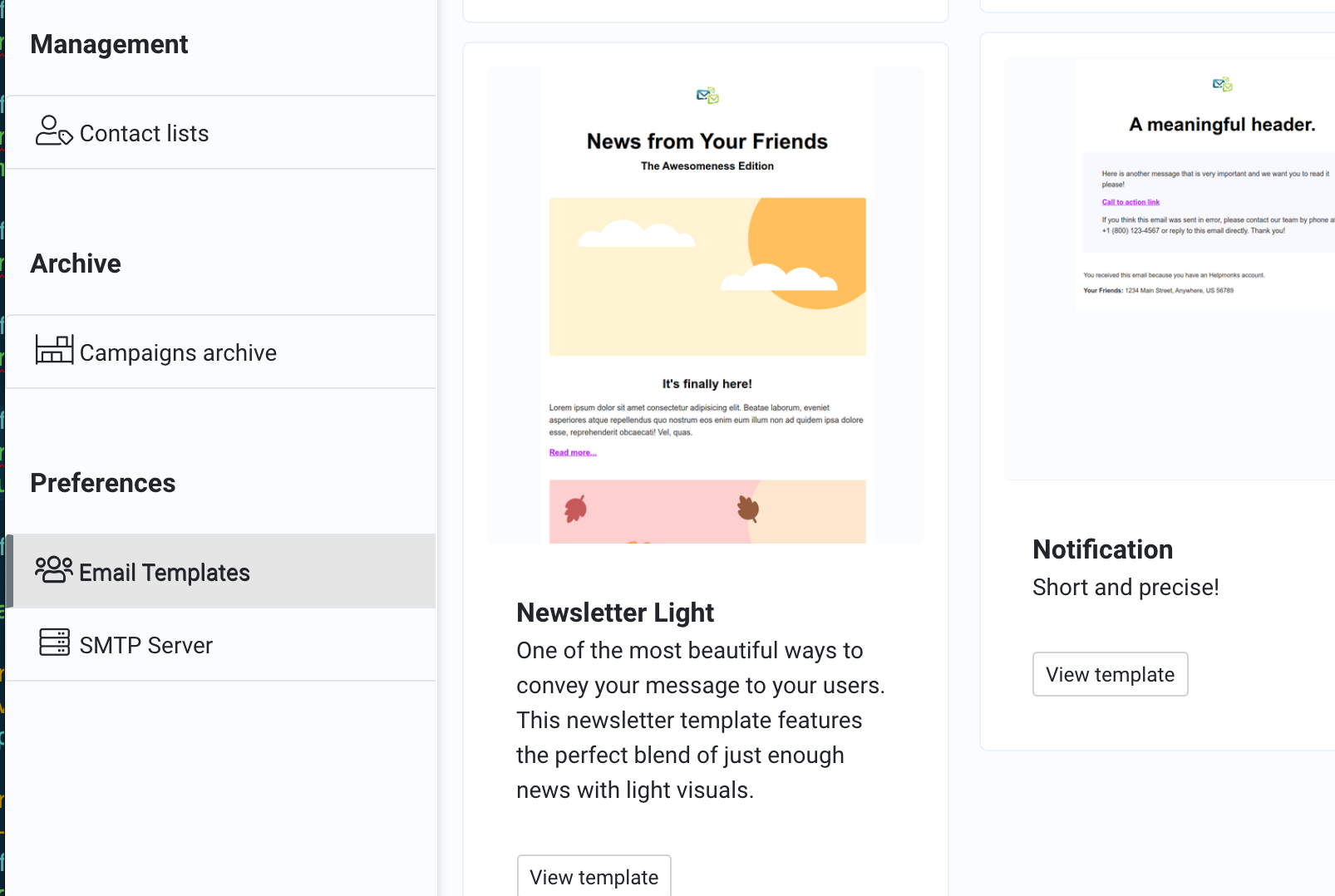 Use a recognizable sender name and address
The biggest mistake is not paying any attention to the details like the "FROM" email-address for your email newsletter.
Ask yourself, what is the first thing you look at when you get an email? From whom the email is coming from, of course. Based on that, you will decide to read the email or delete it.
Incorporate your brand name into the sender. Adding your brand is the best way to reinforce trustworthiness and brand recognition. To be recognized in the inbox, use the same sender name and address for all campaigns.
By all means, avoid sending an email from do-not-reply@mydomain.com as this prevents subscribers from reaching out with questions and commonly screams, "do not contact us."
Create an engaging email subject
Another part that determines your open rate for your email newsletter is the subject line. Apart from a proper "FROM" email-address, the subject line is the most crucial element in your email campaign.
As with a valid email address, your email subscribers decide within seconds if your message is worth their time, based on the email subject.
The best is to make it short and precise. Try to appeal to the emotions and ambitions of your recipients and highlight your offer.
Remember, it doesn't have to be perfect
Don't spend hours on creating a fancy design or creating the best email subject the world has ever read. Engaging your customers, especially with an email campaign, takes time.
Even the most senior marketing executives make mistakes or publish an entire marketing campaign that can backfire. Take, for instance, the latest BMW campaign that mocks their older models.
Monitor the campaign results
Lastly, analyzing key email marketing metrics will teach you how to do better in future campaigns.
Most email marketing service providers have an analytics dashboard with at least the metrics on how many people unsubscribed, which links they clicked on, or how many recipients opened your email newsletter.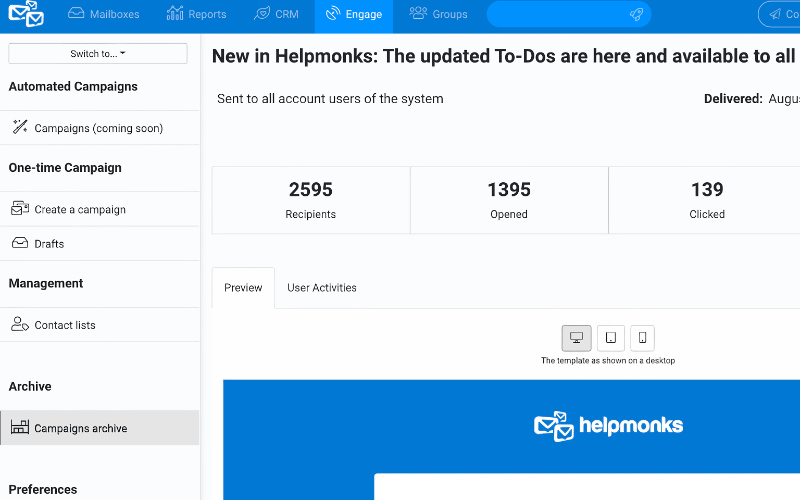 What about automated transactional emails?
As mentioned, another part of your email strategy for lead generation should include some sort of automated campaigns.
Automated transactional emails differ from your email newsletters as they are sent to one user at a time and are highly customized on the time and event the email is being created.
You might want to configure an automated email based on the last visit of the customer to your website. Another prominent example is to remind a customer that he has items in the shopping cart left that he hasn't purchased yet.
How to create an automated email campaign depends on your infrastructure and the tools you use. Your developers might suggest creating some scripts to put "something together." While your mileage might vary with a custom approach, we suggest using an automated email service vendor. Just like with your email marketing vendor, you will benefit from the work and service that has already been done for you.
Maybe your current email marketing software includes an option to configure transactional emails already. If so, it might be best for you and your team to use what you already have. This will also ease the toolchain in your organization, and as transactional emails depend on API integration, your development team will work with an already familiar platform.
Helpmonks recently launched a complete Email Marketing Platform called Helpmonks Engage. Helpmonks Engage includes a Live-Chat tool and an Email Newsletter section, including the option to create automated emails. As Helpmonks Engage is part of the whole Helpmonks email collaboration platform, you only need one app for your shared inbox, customer relationship, live-chat, and email marketing.