Team outpost email alternative
Helpmonks is the best alternative to Outpost email. It's a powerful team email platform that is user-friendly and simply works.
Get (a lot) more - for less - with Helpmonks.
Helpmonks features a powerful team email platform that is user-friendly and simply works.
Use internal notes, assignments, collision detection, labels, sophisticated workflows, and so much more for your team.
Unlike Outpost email, you can use our live chat widget, email marketing, and email automation to transform your shared inbox into a sales powerhouse.
Below you'll find a comparison of Outpost Email vs. Helpmonks.
Helpmonks: Features compared
Unlike Outpost app, Helpmonks is a complete team collaboration platform. While Helpmonks has all the features you've come to love with Outpost emails, Helpmonks takes your team to a new level. With Helpmonks, you get an email platform that drives sales, connect with your customers, and grows your business.
Besides, our pricing is not per-user. Hence, you can bring your whole team together into one platform to collaborate.
Furthermore, you can add a chat widget on your website and chat with your customers in ourlive chat tool in real-time. Moreover, Helpmonks can also be used for lead nurturing, pre-sales, and email marketing with its powerful email marketing platform and email automation. All within the same platform and with the same tools for your whole team.
See for yourself how Helpmonks compares to the Team outpost email app below:
| | Helpmonks | Outpost |
| --- | --- | --- |
| Unified mailbox | | |
| Email Automation | | |
| Email Task Management | | |
| Knowledge Base | | |
| Live Chat | | |
| Push Notifications | | |
| CRM | | |
| Email Marketing | | |
| Email Sequences | | |
| Landing pages / Forms | | |
| File Management (DAM) | | |
| White-Label / OEM | | |
| Dedicated Server Option | | |
Unified shared inbox
You can bring all your mailboxes into Helpmonks. As we don't have a per-user price model, you can invite your whole team and create a true team collaboration for your shared mailboxes. Of course, you have the option to limit access to each shared inbox. Giving you full control over your emails.
However, Helpmonks lets you fully customize how you want to work with your team emails. Its convenient summaries for emails assigned to other team members, advanced contact management, and To-Dos for emails are only some of the features our customers rave about.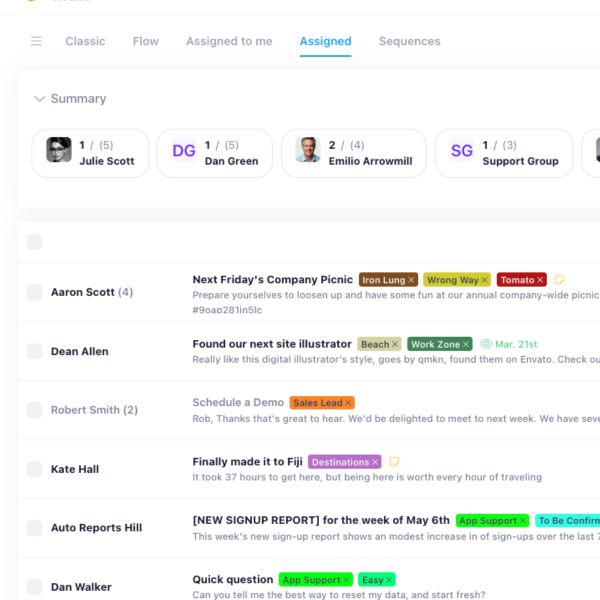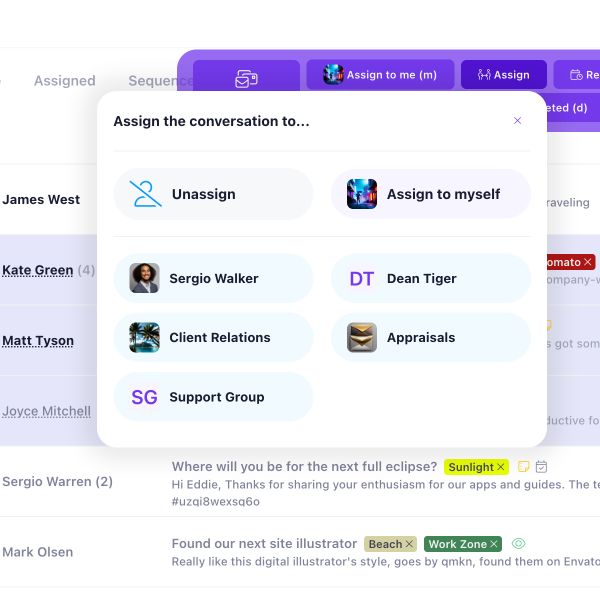 Assign emails
Knowing who's doing what within your team is at the core of our shared inbox approach. Hence, you will find that email delegation within Helpmonks is merely a click away. We added automated rules that alert your team if an email goes unanswered for a while for total peace of mind. With Helpmonks, nothing slips through the cracks.
While assigning an email is great, we didn't stop there. We've added convenient options to provide your team with a dedicated overview and reports to see who is working on what..
Internal notes
With Helpmonks, you don't need yet another app to collaborate within your team. With internal notes, you can easily exchange private information within your team directly within the email conversation. Doing so keeps the context of your internal discussion related to the email conversation and not all over the place.
Besides, internal notes can also hold inline images and attachments. Of course, internal notes are never shared outside your shared inbox. Plus, a note can also be marked for your eyes only, i.e., just for you, not even shared with any of your team members.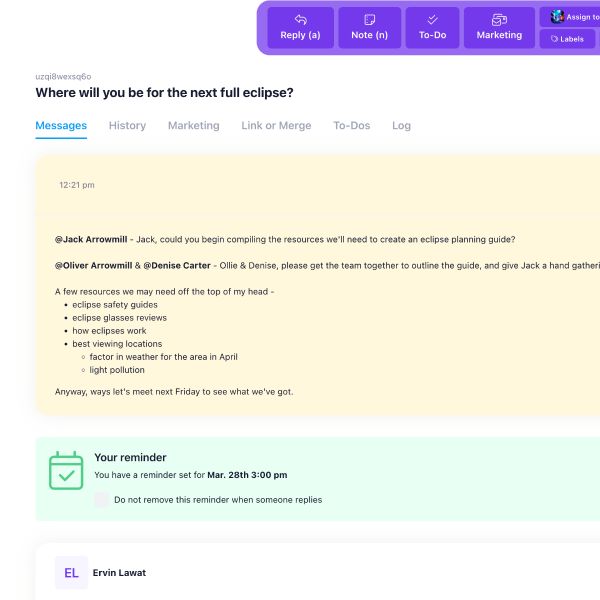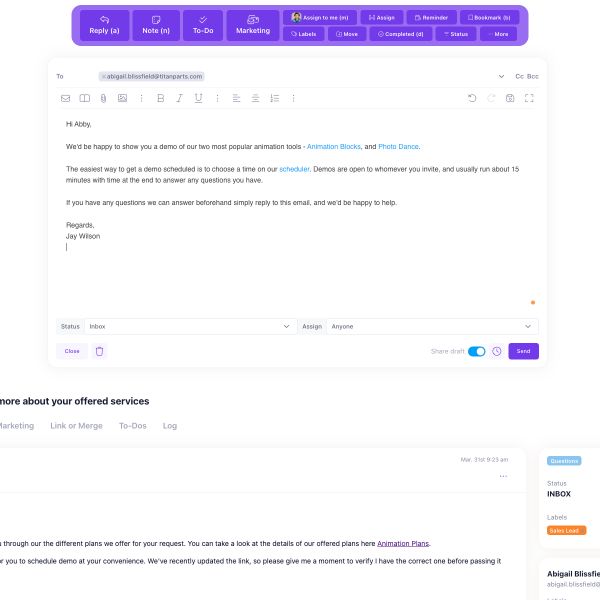 Saved replies / Canned responses
Saved replies are here to save you and your team a lot of work and time. Create a saved reply, aka canned response, define an option subject, the message, and even add attachments, and insert your answer with one click to respond to common questions.
You can even create categories to order your saved replies properly and use the search within the editor to find what you need quickly.
Email CRM.
Each shared inbox in Helpmonks has superpowers. Within a conversation, you will find the entire profile of the sender, including its conversation history.
Furthermore, Helpmonks features a unique "Company" option that gathers all the conversations of all company members. With it, we can provide you with helpful insights. Moreover, you can use that data to create workflows around the company and its recipients.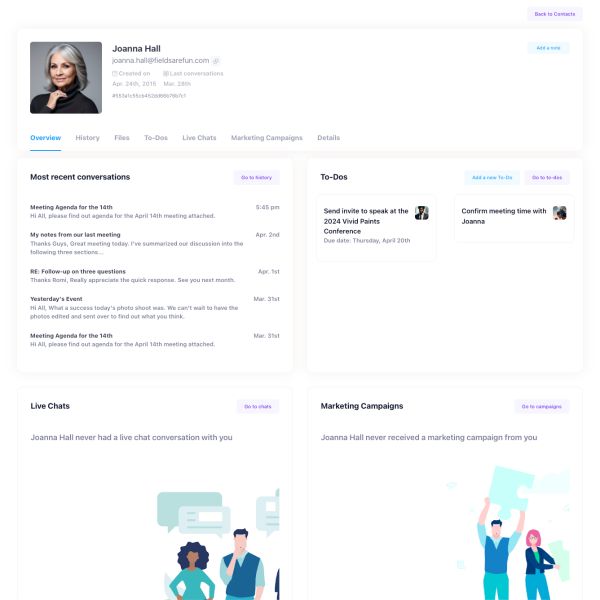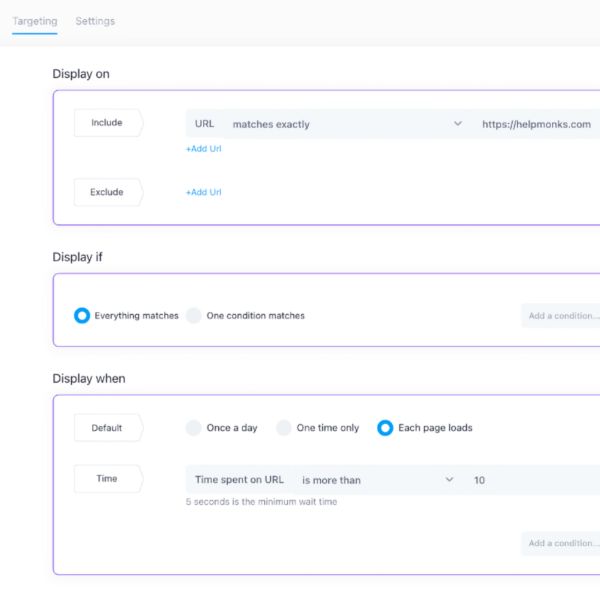 Email Task Management
While Helpmonks features a convenient email assignment option, we think that our Email ToDo list app will take your team further. Create one or many To-Dos for yourself or assign the email task to another team member. To-Dos created from an email conversation are automatically linked and associated with the contact.
Email Tasks for teams is an integrated part of every Helpmonks account and comes at no additional charge. Many of our customers switched from, e.g., ToDoIst, as our Task List Manager is the only Email ToDo application deeply integrated with an email platform.
Advanced Reporting
Our team collaboration tool includes advanced analytics to measure your team's response time. However, it doesn't just stop there. Helpmonks features an entire reporting system that provides analytics for labels, who is interacting with your team the most, which company is the most active, and much more.
Take a deep dive into all your conversations history in one convenient place. Of course, if you also use our live chat tool and email marketing platform, we provide analytics for those interactions as well.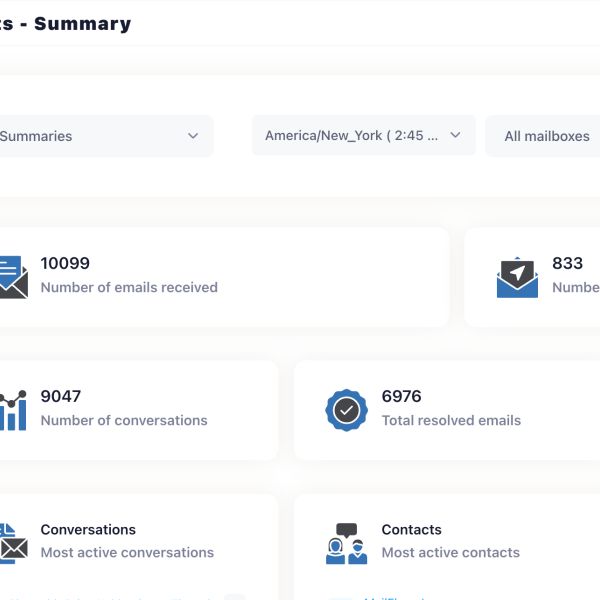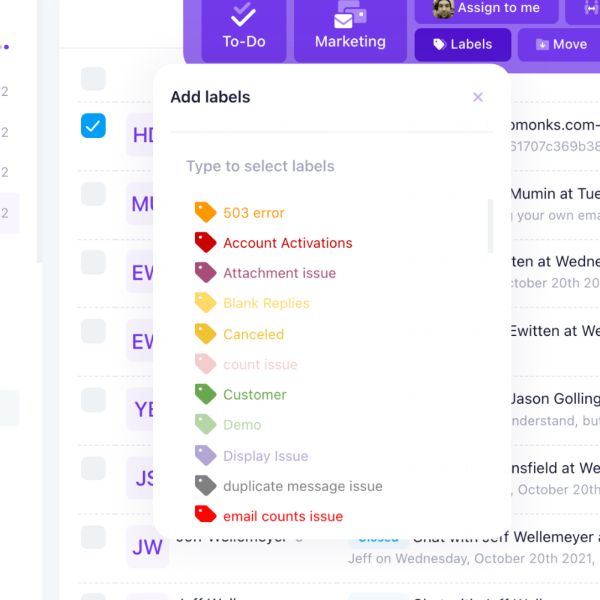 Labels
Our customers love labels. Labels allow for categorizing your email workload and adding meaning to them. You can tag an email with as many labels as you want. Also, with our fully customizable shared inbox, you can create a dedicated view that only shows emails with a specific label.
Besides, you can also use labels to create an automated email workflow to, e.g., assign and reply to an email automatically. In addition to emails, you can also add labels to your contact records and filter your customers accordingly.
Advanced search
An email management platform wouldn't be of much use without a proper search. That's why you will find an omnipotent search right at your fingertips. Real-life scenarios have shown that the Helpmonks search engine only takes 1 - 2 seconds to search through three million email records. Something, Outlook users only dream of.
Our search, however, not only returns email conversations but also contact, companies, and attachments. Additionally, it contains a search history so you can quickly jump back to the last found records with one click.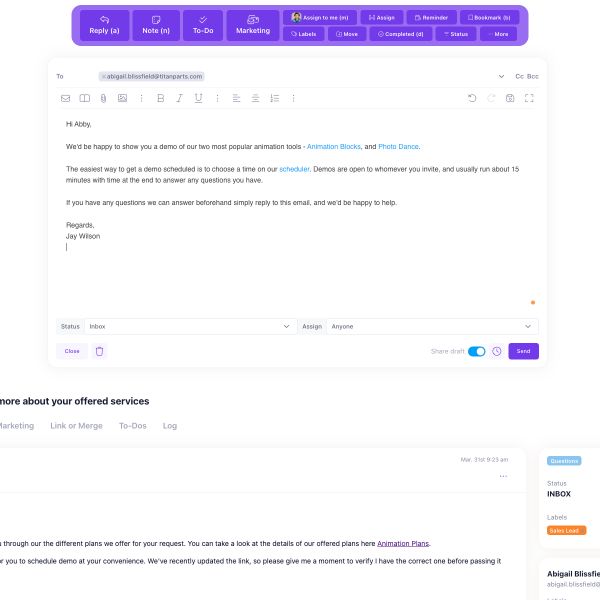 Do you want to see how Helpmonks works?
Create a free account now or schedule a personal demo.
Helpmonks vs Others
Here are in-depth comparisons to other products which people migrate to Helpmonks from.
Helpmonks vs. Help Scout
Upgrade to Helpmonks and get more features for less money. Helpmonks is the modern alternative to Help Scout.
Compare Helpmonks to HelpScout
Helpmonks vs. Intercom
Sick of paying Intercom's high prices? Helpmonks is the reliable and affordable alternative to Intercom.
Compare Helpmonks to Intercom
Helpmonks vs. Frontapp
Got enough of overpaying? You are not alone. See why Helpmonks is the best alternative to Front.
Compare Helpmonks to Front
Helpmonks vs. Groovehq
Enjoy a superior, more mature platform with Helpmonks. Helpmonks is the best Groovehq alternative.
Compare Helpmonks to Groove
Helpmonks vs. Mailchimp
Do more than (over)pay with Mailchimp. Helpmonks includes a shared mailbox, knowledge base, and CRM capabilities.
Compare Helpmonks to Mailchimp
Helpmonks vs. Engagebay
Simpler to use, more affordable, and more powerful. Helpmonks is the best alternative to Engagebay.
Compare Helpmonks to Engagebay
Helpmonks vs. Zendesk
Helpmonks is the best alternative to Zendesk. Helpmonks is more affordable, easier to use, and more powerful than any other helpdesk system.
Compare Helpmonks to Zendesk
Helpmonks vs. Email Groups
Compared to Google Groups or a shared inbox in Outlook, Helpmonks is the better alternative with more powerful features and better team collaboration.
Compare Helpmonks to Email
Helpmonks vs. Team Outpost
Team Outpost was a shared inbox tool that was disolved. See why so many switched to Helpmonks as the alternative to a Outpost mailbox.
Compare Helpmonks to Team Outpost
Here's what you get with Helpmonks
We created Helpmonks to be the foundation for your customer engagement. Use it to collaborate with your team on customer service and marketing, increase sales, and create a hub for all customer interactions.