A new and better shared inbox
Helpmonks helps to keep your team emails organized and get more done together in your shared inbox.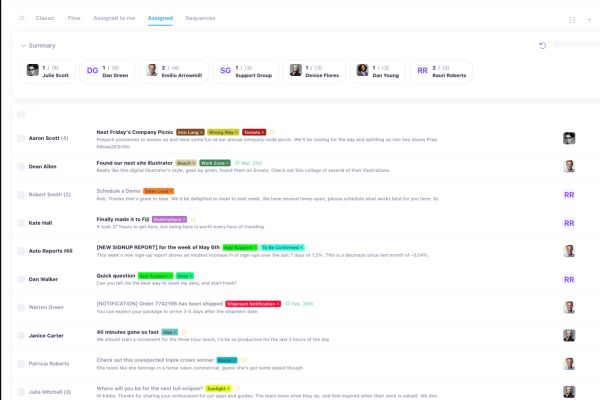 The all-in-one email managment platform to save you time and money.
We combined all the features of any email managment tool into one. We added enhanced customer management, email marketing, and marketing automation into one platform.
Our unique take for teams emails unifies all the tools you need for customer success. Leverage a smart shared inbox with advanced workflows to automatically delegate emails and use email sequences to send automated responses. Use tools like internal email notes, email labels, conversion history, and email analytics to collaborate on each customer request efficiently.
Grow your business and increase sales by using the live chat widget. Or use the email marketing platform to send email campaigns.
Furthermore, use the knowledge base to create a self-service portal for your customers or as an internal knowledge base for your team.
Everything is available in one place. No more app switching and paying (a lot) for all those other apps.
Shared inboxes without limits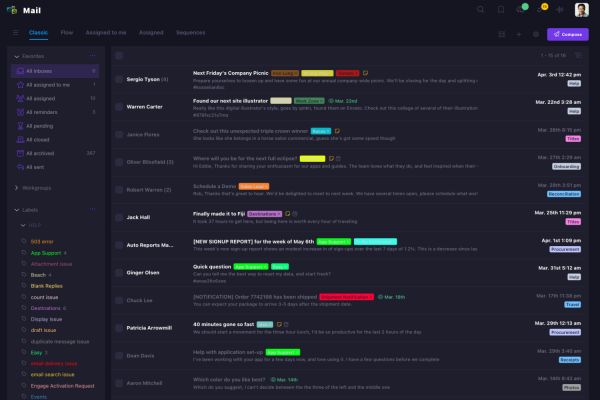 Bring your whole team into Helpmonks and experience true email collaboration. No email falls through the crack, and everyone is on the same page. Advanced shared inbox management guarantees that only the users you want have access. You have complete control over your shared inbox software.
Contrary to a shared inbox for Gmail or Outlook, you can customize different sections that are only relevant to you and your team. Convenient view for emails, advanced contact management, and To-Dos for emails are only some of the features our customers rave about.
Shared inbox for sales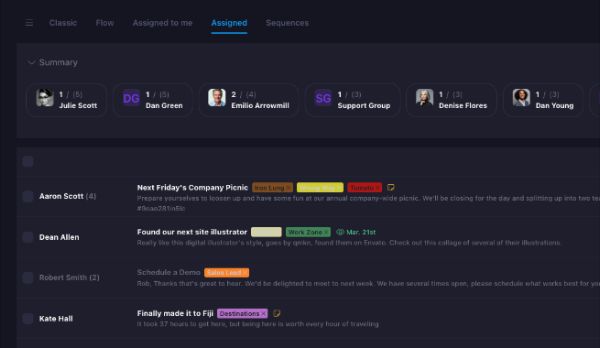 Teams that convert to the Helpmonks shared inbox tools tell us that they love our team collaboration approach. You will find several team-specific features like an assignment to a whole team and not only to one person or workflows based on when an email arrives. That includes international time zone support.
Besides, our all-in-one team collaboration tool makes it easy for everyone to see who is working on what. There is no need for endless email forwarding to your group email list or using the clumsy CC or BCC.
Shared inbox for marketing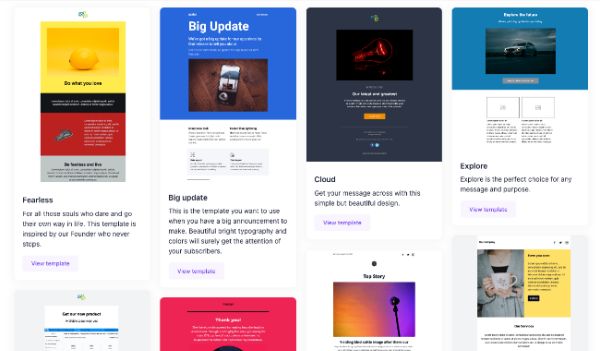 Using Helpmonks as your email collaboration tool will put you in a uniquely advantageous position. With several email marketing tools directly available in your shared inbox, you can make crucial sales and marketing decisions on the fly.
For instance, by adding a label to a contact, automated email workflows set off to add the customer to a distribution list of your email marketing campaigns, trigger an online chat, or send an email drip campaign.
Email delegation at scale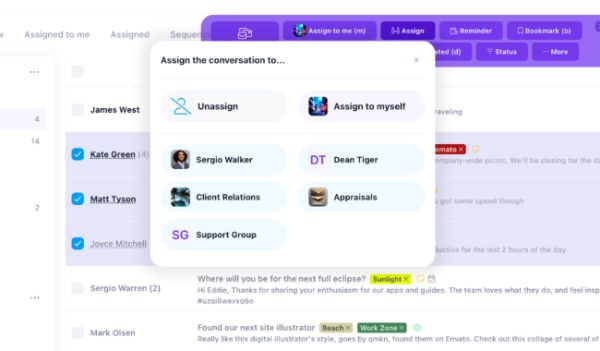 Delegating an email should be straightforward and fast. Furthermore, you must always know who's working on what. For many of our customers, email is time-sensitive and mission-critical to their business success. Email collaboration is the core of our shared inbox software approach (with your security and 99.99% uptime).
You will find that email delegation within Helpmonks is merely a click away. Automated workflow rules alert your team of any unanswered emails or if a reply is overdue. With Helpmonks, nothing slips through the cracks.
Internal email notes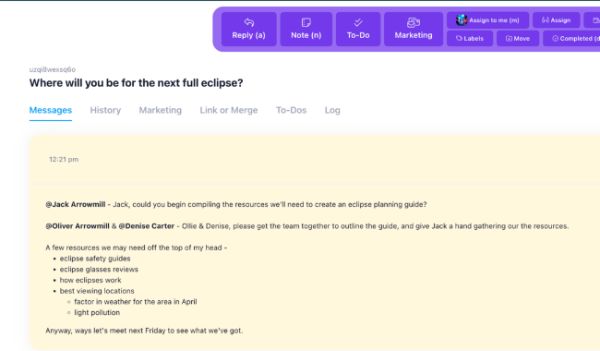 Collaborate on emails with your team with internal email notes and converse directly within the email conversation. Doing so keeps the context of your internal discussion related to the email conversation and not all over the place.
Email notes in Helpmonks can also include attachments and inline images. Besides, notes in emails are never shared outside your shared inbox. Additionally, you have the option to create email notes for yourself only.
Never reply twice again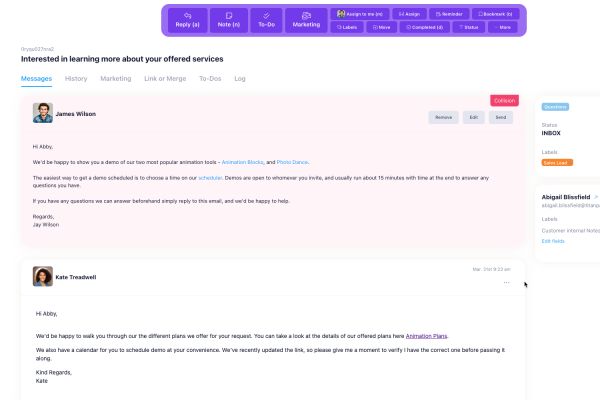 With collision detection, which is automatic and included with all plans, you never have to worry that your customers receive an answer twice. Collision detection works in real-time in the background and steps in when it detects that two users reply to the same email.
Contrary to other tools, you can turn the collision alerts off or tune how far back the system should detect a collision. Plus, collision detection also works when you answer by email and not only within the Helpmonks app.
Canned responses & email templates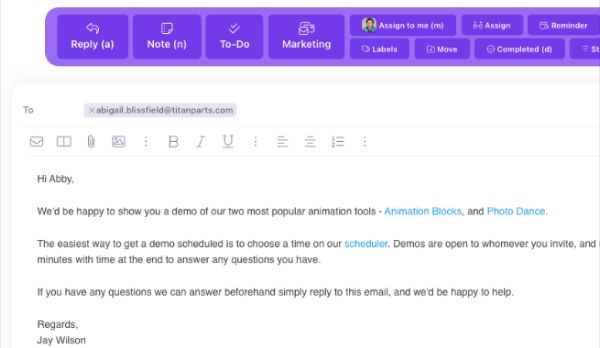 Canned responses, aka saved replies, and auto-replies, are here to save your team a lot of work and time. Create a canned response, define an option subject and the message, add attachments, and insert your answer with one click in your replies.
Contrary to canned responses in Gmail, you can properly categorize your email templates and auto-replies and use a convenient search within your message editor. Plus, canned responses can also be used in your email workflows.
Enhanced contact & company management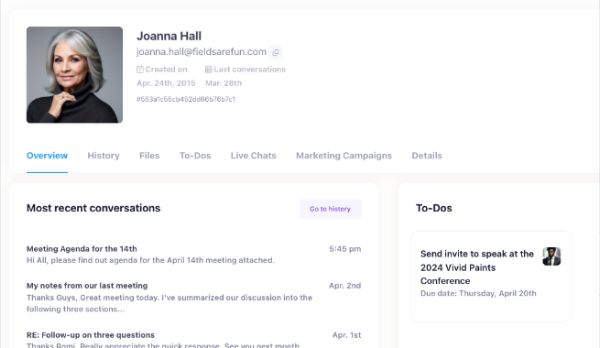 With its advanced contact management features, think CRM for emails, Helpmonks provides a complete overview of all interactions with all your customers. No matter if they contact you by email, live chat, or from your email campaigns. We've designed our email platform so you are always just one click away from the customer profile.
With our unique company management feature, you get even more insight into every interaction with all company members. Create email workflows based on company and customer profiles or send an email sequence.
Email Task Management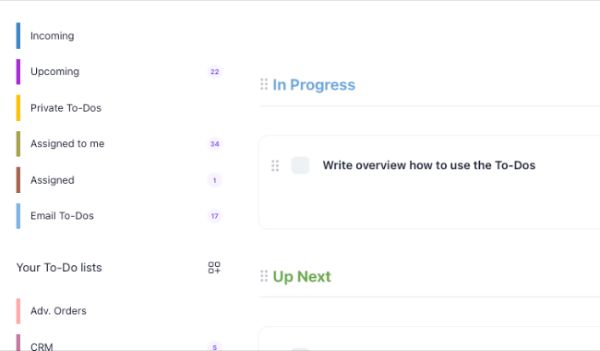 Assigning an email to a team member is instant with Helpmonks. While efficient, we've added an email task management system so you and your team can create email tasks in your shared inbox and work on them as a team. Users can assign each email task to each other. Tasks automatically linked to the email conversation and contact.
All email tasks for your team and yourself are globally accessible and show throughout the system, e.g., within an email conversation and a customer profile. Furthermore, you can create task lists, categorize them, and converse with your team within the task itself.
Email Analytics included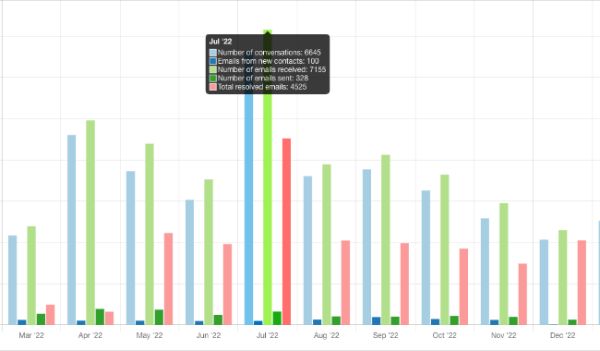 Our team collaboration tool includes advanced email analytics. Measure your team's response time, check how labels are applied, who interacts with your team the most, which company is the most active, and much more.
Helpmonks comes with an extensive range of email reports in real-time that you can use for your daily business. Of course, if you use our live chat tool, we add agent reports and email campaign reports for your email campaigns.
Labels are everywhere and always available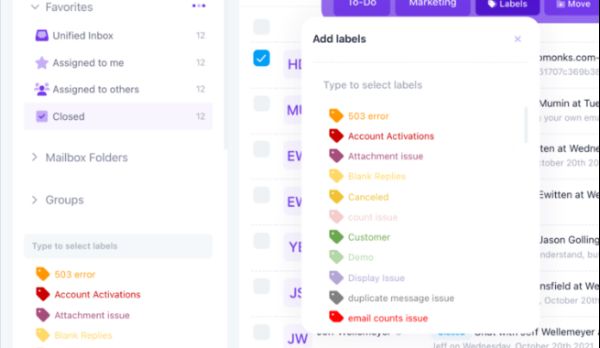 If you know the Google email labels, you will feel at in Helpmonks. Use labels to tag your email workload and add meaning to them. Customize your shared inbox view and create a dedicated view showing only emails from specific labels.
However, you can also use email labels with an email workflow, e.g., assign and reply to an email automatically or tag an email automatically. Furthermore, we applied the lovely labels also to our contact management and, e.g., send an email to all customers with a specific label.
High-powered email search engine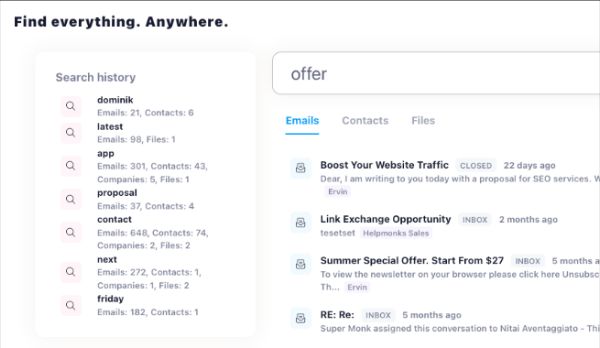 Hey, Outlook, move over. Helpmonks includes an omnipotent email search tool that retrieves millions of emails within 1 – 2 seconds (real-life usage).
In addition to our fast email search engine that returns email conversations in record time, you can search for contacts, companies, and attachments. A convenient saved search option lets you return to the last search with one click.
Helpmonks can also replace or complement Outlook or Gmail.
Here's what you get with Helpmonks
We created Helpmonks to be the foundation for your customer engagement. Use it to collaborate with your team on customer service and marketing, increase sales, and create a hub for all customer interactions.