CRM for email. Transform your shared inbox into a powerful sales tool.
The CRM with email marketing and email automation to increase sales and customer satisfaction. Included for free with your Helpmonks account.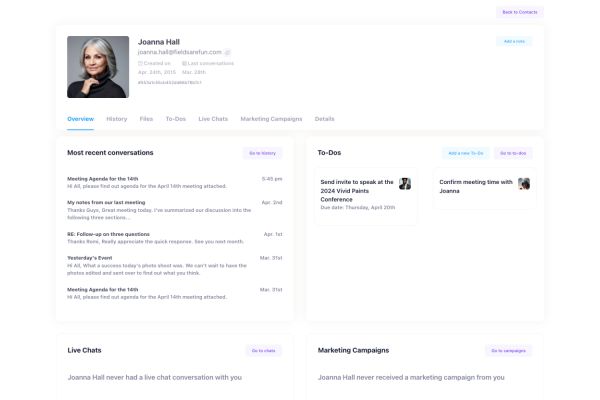 An (uncomplicated) email CRM.
Transform your shared inbox into a powerful CRM with the freely available CRM made for emails. No need to switch between systems or pay for additional tools.
Collaborate with your team members on leads and get higher customer retention with less effort. Everything is in one place, in real-time, and transparent for everyone in your organization.
Empower your sales team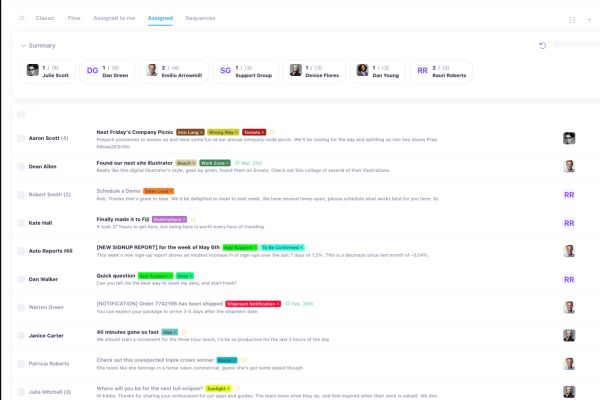 Everything you need to close the deal is in your email messages — store relevant user data for each email thread and set reminders to follow up with leads.
Helpmonks CRM captures your active deals and extends your shared inbox into a full-featured CRM with email marketing. A single, powerful sales tool available anytime, anywhere. That's what we call; saving time.
CRM with email integration
Add context to each email thread. Add notes, deal sizes, contact information, and more for each deal. Helpmonks CRM intelligently summarizes all conversations with your customers, so you get a 360-degree view of ongoing interaction to support your customers with our email management software.
As your sales tool lives within your team emails, you will never miss out on potential deals. Share deals with your team and keep everyone on the same page, be it support, service or sales. Instantly, everyone is engaged in your sales process.
CRM with email automation
Drive sales and revenue using advanced marketing automation, intuitive reporting, and powerful personalization.
With email drip campaigns, Helpmonks customers will see a significant increase in engagement compared to bulk email.
Adjust your email workflow at any time to consider events. Send emails based on smart segments that buckets of subscribers. Stay organized and consistently deliver the appropriate message based on a subscriber's relationship with you.
CRM with email marketing
Helpmonks has everything you need to run well-designed, professional email campaigns to grow your business.
Use the email marketing platform to drive further sales for abandoned shopping carts or by re-activating customers that haven't engaged with your brand recently.
With the email marketing platform, you can create beautiful emails with our drag-and-drop editor, send automated campaigns, and target your audience with segmentation.
Create personalized customer experiences
Tag subscribers based on their actions and send highly personalized email campaigns. Add triggered automation based on the links your subscribers click and the emails they open.
With intelligent email list segmentation, your messages drive more engagement and create more value for your brand. It's more than just email marketing.
CRM Email Integration
Capture deals right in your shared inbox. Everything you need to know about your deals is available in your sidebar. Of course, this also includes all your custom fields, which are available for each customer.
Leave notes for your whole team to see, and move the deal through different stages, e.g., "Contacted," "Demo," and "Negotiation." Create reminders to stay up-to-date.
A CRM made for small businesses and teams
As your sales tool is integrated with Helpmonks, your team gets notifications on changes or when a user didn't reply, tracking, and more. Use the CRM with workflows to automate and initiate powerful sales funnels.
With the embedded CRM capabilities, you and your team will automatically work with your CRM and not against it.
Everything is in one place and always up to date. See what else you get with Helpmonks.