The modern Zendesk alternative
The best Zendesk alternative to ticketing system with a more modern approach for customer engagement.
Get (a lot) more - for less - with Helpmonks for your customer service champions.
Your customer service teams shouldn't be wasting time managing a helpdesk software. They should be helping your customers.
Furthermore, Helpmonks has all the features you need to provide great customer service, including a powerful ticketing system, a shared inbox, email automation, and email marketing.
While Zendesk is undoubtedly a great helpdesk software, it contains features many don't need, it's expensive and complicated to use.
Below you'll find a comparison of Zendesk vs. Helpmonks.
Zendesk pricing
Zendesk is a massive software and it shows in its convoluted pricing model. You pay per agent, for engaging with customers, usage, and for each module.
On the other hand, Helpmonks has no per-user fees, no contracts required, doesn't constantly upsell, and its pricing is transparent. You also never pay for more than you use or for growing your company, i.e., getting punished for growing your business.
To keep this comparison fair, we took the "Suite" plans without usage or add-ons. See for yourself how much you can safe by switching to Helpmonks today.
| | Helpmonks | Team | Growth | Pro |
| --- | --- | --- | --- | --- |
| Price Example with 5 users | | | | |
| Price per month | $99 | $245 | $395 | $495 |
| Price Example with 25 users | | | | |
| Price per month | $99 | $1,225 | $1,975 | $2,475 |
| Price Example with 50 users | | | | |
| Price per month | $249 | $2,450 | $3,950 | $4,950 |
| Price Example with 100 users - HIPPA | | | | |
| Price per month | $499 | | | $9,900 |
Zendesk vs. Helpmonks: Features compared
Helpmonks is focused on its customers and built tools for growing teams. Enterprise software companies like Zendesk builts tools solely for large enterprises.
With Helpmonks you are up and running in minutes. Furthermore, Helpmonks can be as simple or powerful ad you need it to be. Moreover, Helpmonks features easy-to-use email automation and a powerful email marketing suite.
See for yourself how Helpmonks compares to Zendesk's features below:
| | Helpmonks | Zendesk |
| --- | --- | --- |
| Unified mailbox | | |
| Email Automation | | |
| Email Task Management | | |
| Knowledge Base | | |
| Live Chat | | |
| Push Notifications | | |
| CRM | | |
| Email Marketing | | |
| Email Sequences | | |
| Landing pages / Forms | | |
| File Management (DAM) | | |
| White-Label / OEM | | |
| Dedicated Server Option | | |
No support tickets, but a personal customer experience.
Compared to Zendesk, a shared inbox in Helpmonks makes each of your customers feel like they have direct contact with your company. Apart from a great customer experience, it's your central hub for customer questions and requests.
Furthermore, it allows prioritizing, tracking, and collaboration internally with your team members. Moreover, every email in your team inbox provides context about the sender, including the entire history.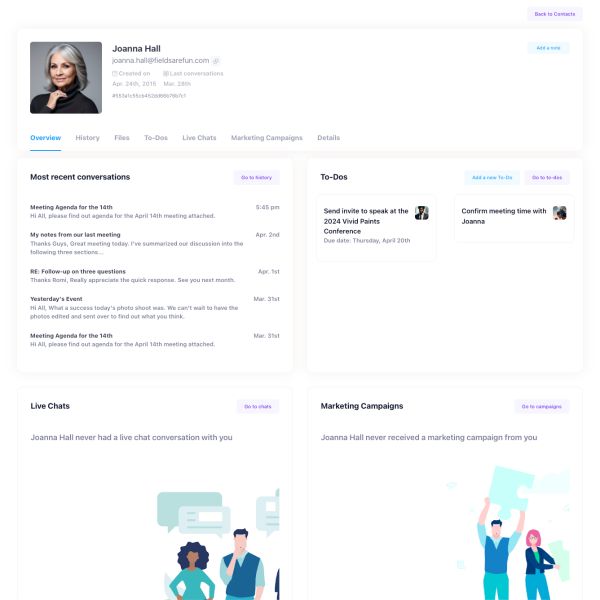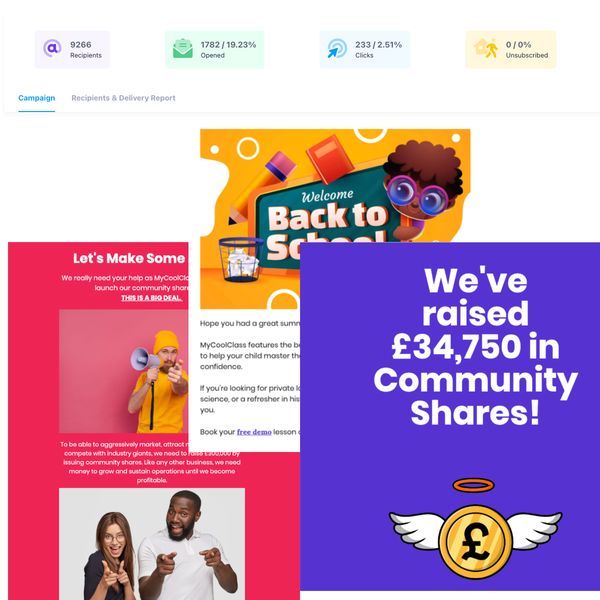 Email marketing included.
Data gathering is fine and all, but you can only make sales when you reach out to customers. That's why we have included a complete email marketing platform. With it, you can create distribution lists and send email newsletters to your customers with ease.
As a trustworthy all-in-one customer engagement platform, you will find that everything is integrated into an easy-to-use customer service software.
Pro-active automated customer messaging.
Not only a tool for selling but an entire email automation suite to create different drip campaigns to send automated emails.
You can use variables (tags) to create dynamic email templates for highly personalized email campaigns that get triggered based on your customers' behavior.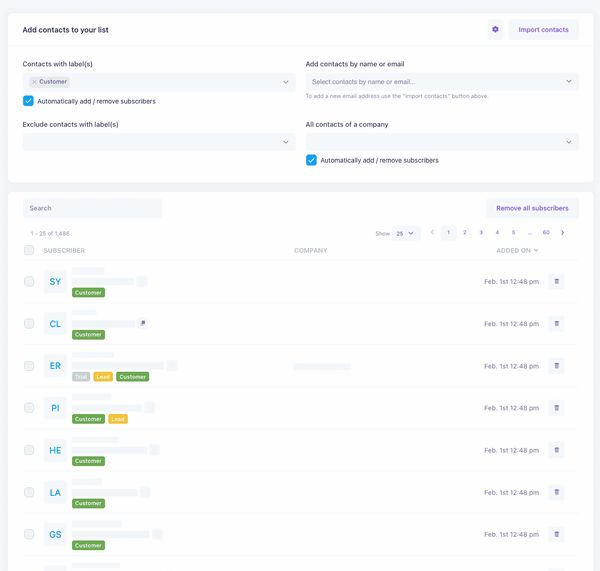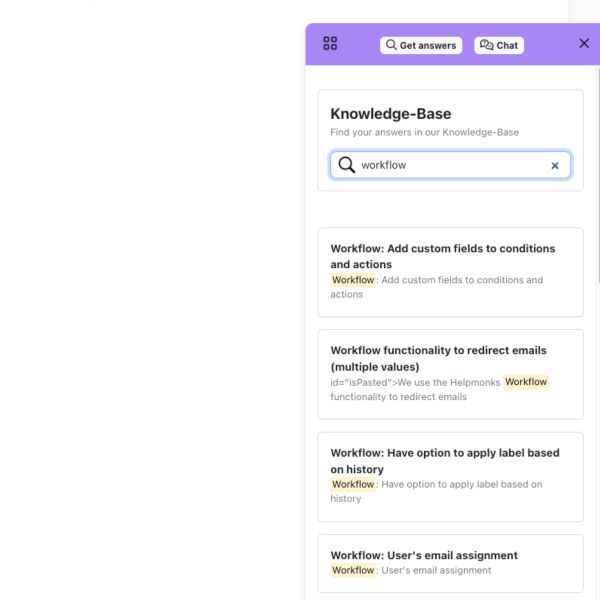 Real conversational experiences.
Our Live Chat feature is included without any limitations. You can use the Live Chat widget on as many sites and support channels as you want with no chat agent limits.
Use proactive messages to engage your customers with personalized notifications and drive sales and customer engagement.
No matter wich channel your support agents have to support, with our customer support software and the chat widget installed, you can provide an outstanding customer experience without limits.
Knowledge base.
With Helpmonks you get more than just a shared inbox. That's why we bundle tools to make you successful, like a full features Knowledge base that you can use to create public or private sites.
Delight your customers with a lighting-fast search and a powerful live chat widget to provide instant help on any your websites.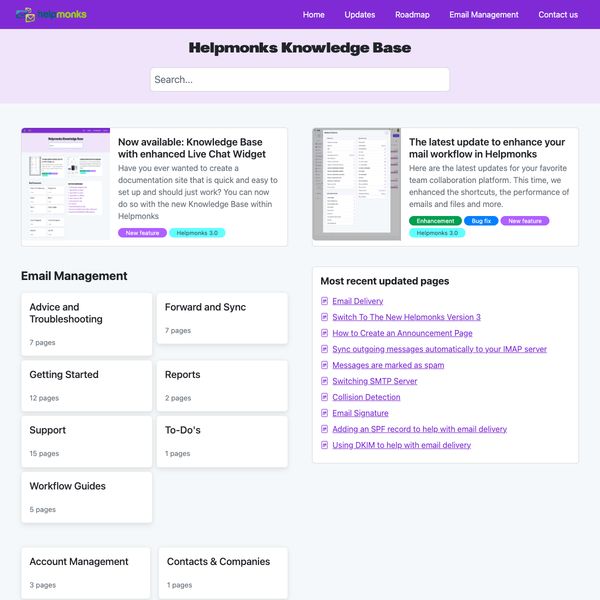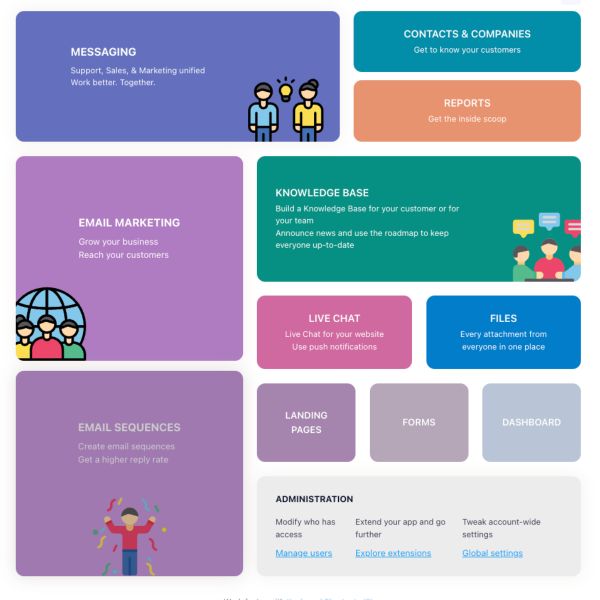 Get more, for less.
Helpmonks is an all-in-one customer engagement platform. It includes a shared inbox, knowledge base, CRM capabilities, email automation, and an entire email marketing platform.
Furthermore, Helpmonks is a (lot more) affordable than Zendesk. You can save up to 80% by switching to Helpmonks.
Best in class support from real people.
Helpmonks is a self-funded company. We're here to help you with anything you need. We're available via email and chat.
Furthermore, we're constantly improving our product. We release new features every week and we're always open to feedback.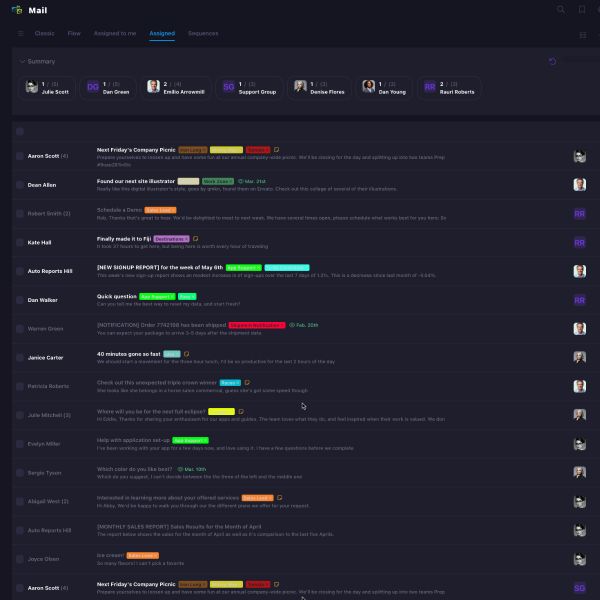 Do you want to see how Helpmonks works?
Create a free account now or schedule a personal demo.
Helpmonks vs Others
Here are in-depth comparisons to other products which people migrate to Helpmonks from.
Helpmonks vs. Help Scout
Upgrade to Helpmonks and get more features for less money. Helpmonks is the modern alternative to Help Scout.
Compare Helpmonks to HelpScout
Helpmonks vs. Intercom
Sick of paying Intercom's high prices? Helpmonks is the reliable and affordable alternative to Intercom.
Compare Helpmonks to Intercom
Helpmonks vs. Frontapp
Got enough of overpaying? You are not alone. See why Helpmonks is the best alternative to Front.
Compare Helpmonks to Front
Helpmonks vs. Groovehq
Enjoy a superior, more mature platform with Helpmonks. Helpmonks is the best Groovehq alternative.
Compare Helpmonks to Groove
Helpmonks vs. Mailchimp
Do more than (over)pay with Mailchimp. Helpmonks includes a shared mailbox, knowledge base, and CRM capabilities.
Compare Helpmonks to Mailchimp
Helpmonks vs. Engagebay
Simpler to use, more affordable, and more powerful. Helpmonks is the best alternative to Engagebay.
Compare Helpmonks to Engagebay
Helpmonks vs. Zendesk
Helpmonks is the best alternative to Zendesk. Helpmonks is more affordable, easier to use, and more powerful than any other helpdesk system.
Compare Helpmonks to Zendesk
Helpmonks vs. Email Groups
Compared to Google Groups or a shared inbox in Outlook, Helpmonks is the better alternative with more powerful features and better team collaboration.
Compare Helpmonks to Email
Helpmonks vs. Team Outpost
Team Outpost was a shared inbox tool that was disolved. See why so many switched to Helpmonks as the alternative to a Outpost mailbox.
Compare Helpmonks to Team Outpost
Here's what you get with Helpmonks
We created Helpmonks to be the foundation for your customer engagement. Use it to collaborate with your team on customer service and marketing, increase sales, and create a hub for all customer interactions.