The #1 Front app alternative
Helpmonks is the preferred Front app alternative for customer communication for a fraction of the cost. See why.
Get (a lot) more - for less - with Helpmonks.
There's no comparison when looking for a Front email replacement for your team emails. Front app prices are ridiculously high, and the cost is per user. Furthermore, you need to pay for at least two users. Moreover, Front is known to change prices and force upgrades on customers.
On the other hand, Helpmonks is known for fair pricing with no per-user licenses, multiple deployment options, and raving customer support. Besides, as a real Front app competitor, Helpmonks delivers a better and more innovative email management software.
Your customer support and sales team can replace the Front chat with the Helpmonks chat widget, which features automation and triggers out-of-the-box.
With Helpmonks you also get a fully featured Knowledge base that you can use to create public or private help sites.
Plus, your marketing team will enjoy the integrated email marketing platform with email drip campaigns and our email CRM capabilities. All that, in one powerful email platform.
Below you'll find a comparison of Front vs. Helpmonks.
Front app pricing
Front is known to change its pricing constantly and impose the changes within weeks for all customers. Furthermore, the license is per user and many plans limit the quantity of users, i.e., you need to upgrade to a more expensive subscription.
Moreover, to get the same feature set as Helpmonks you would need subscribe to Front's $99/month plan with at least 20 users. To keep this comparison transparent we are including all of Front's plans for you.
| | Helpmonks | Front Growth | Front Scale | Front Premier |
| --- | --- | --- | --- | --- |
| Price Example with 5 users | | | | |
| Price per month | $98 | $245 | | |
| Price Example with 25 users | | | | |
| Price per month | $98 | | $2,475 | |
| Price Example with 50 users | | | | |
| Price per month | $899 | | | $11,450 |
Front app vs. Helpmonks: Features compared
Front calls itself a customer communication solution, however for being a communication platform it solely offers a shared inbox feature. It lacks other collaboration features, CRM capabilities, and tools to increase sales like email sequences and email marketing.
You are out of luck if you are looking for a Knowledge base or other tools to enhance the customer experience. For that, you need to use external tools which adds additional cost to the already steep price of Front.
See for yourself how Helpmonks compares to Front's features below:
| | Helpmonks | Front |
| --- | --- | --- |
| Unified mailbox | | |
| Email Automation | | |
| Email Task Management | | |
| Knowledge Base | | |
| Live Chat | | |
| Push Notifications | | |
| CRM | | |
| Email Marketing | | |
| Email Sequences | | |
| Landing pages / Forms | | |
| File Management (DAM) | | |
| White-Label / OEM | | |
| Dedicated Server Option | | |
Superpower for your shared inbox.
Compared to Front, every shared inbox in Helpmonks comes with superpowers to help you and your team to stay focused. Each email in your team inbox provides context about the sender, including the entire history.
Furthermore, "Companies", a Helpmonks first-to-market feature, enables an intelligent view into the company of the sender.
Teams that started using ashared inboxfor shared email, tell us that their collaboration and teamwork increased. Customers love the power of collaboration driven by key metrics.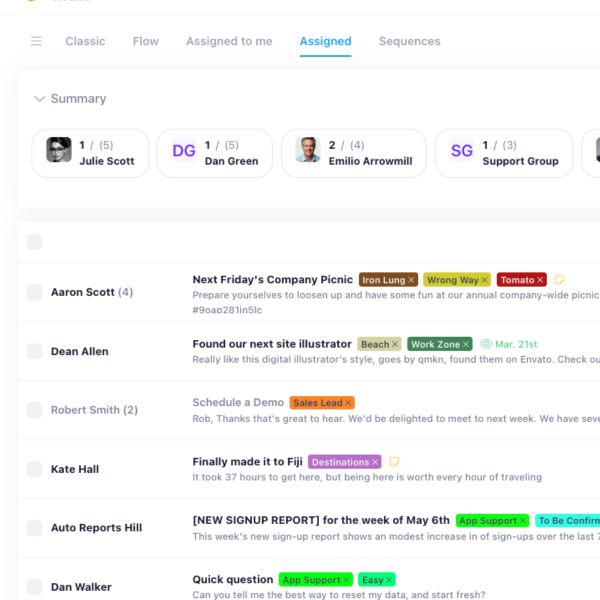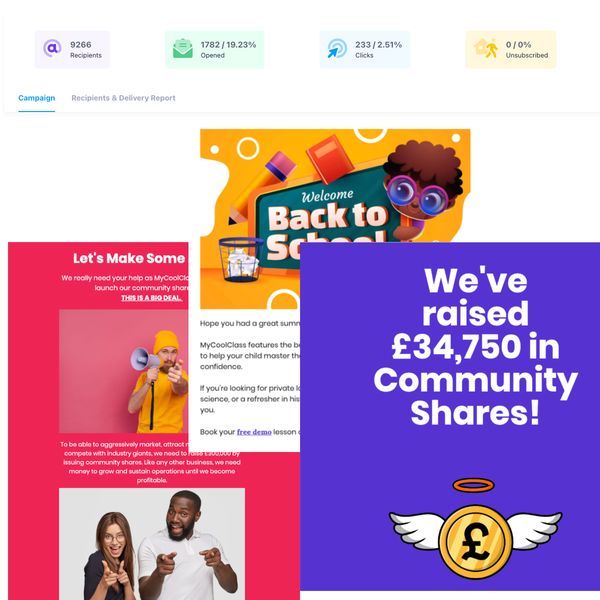 Email marketing.
Boost sales, nurture subscribers, and maintain brand recognition with our Email Marketing Platform beyond social media.
That's right, Helpmonks includes a complete email marketing software that you can use to manage your distribution lists and send beautiful email newsletters to customers.
Unlike FrontApp, you won't have to sell your house to afford it. That's one of the many benefits of an all-in-one customer communication platform.
Email automation.
Combine the simplicity of customer communication and start real conversations with your customers. You can create pleasant customer experiences with personal messages at the right time. One way to do that is by sending automated email responses at the right time of the customer journey.
Instead of adding yet-another expensive tool — haven't you paid enough for Front app already? — Helpmonks includes a mighty email automation engine already.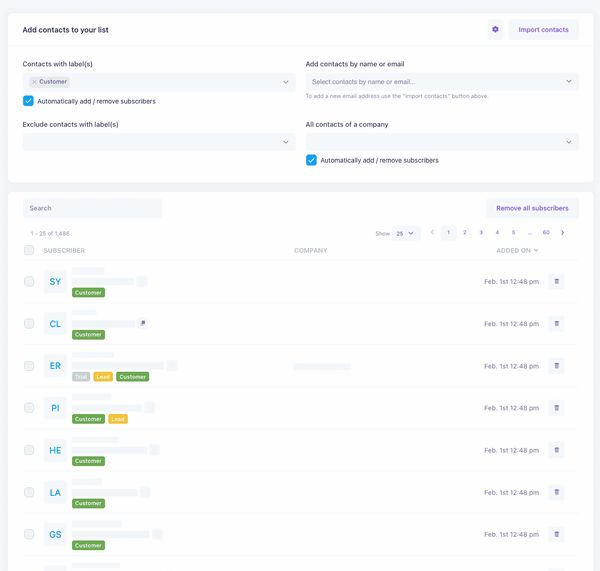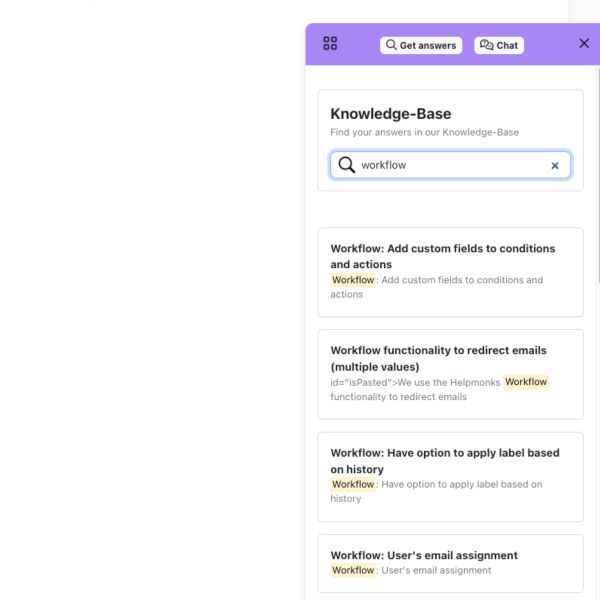 Live chat.
It's no secret that live chat increases lead generation and sales funnels. That's why we include a Live-chat feature without any limitations. You can use the Live Chat widget on as many sites as you want. Moreover, there is also no chat agent limit.
As part of our customer engagement solution, all incoming messages are automatically stored and synced, and available in the enhanced contact management. From here, you can take further actions, e.g., assign the email, discuss internally, or add the email address to one of your automated email drip campaigns.
Knowledge base.
With Helpmonks you get more than just a shared inbox. That's why we bundle tools to make you successful, like a full features Knowledge base that you can use to create public or private sites.
Delight your customers with a lighting-fast search and a powerful live chat widget to provide instant help on any your websites.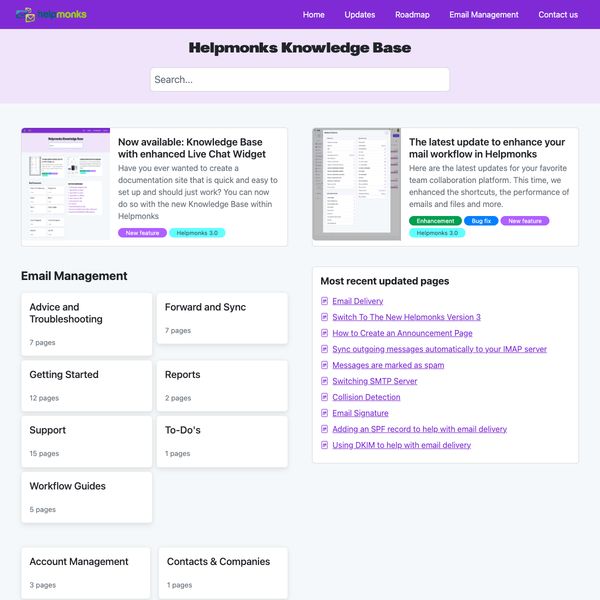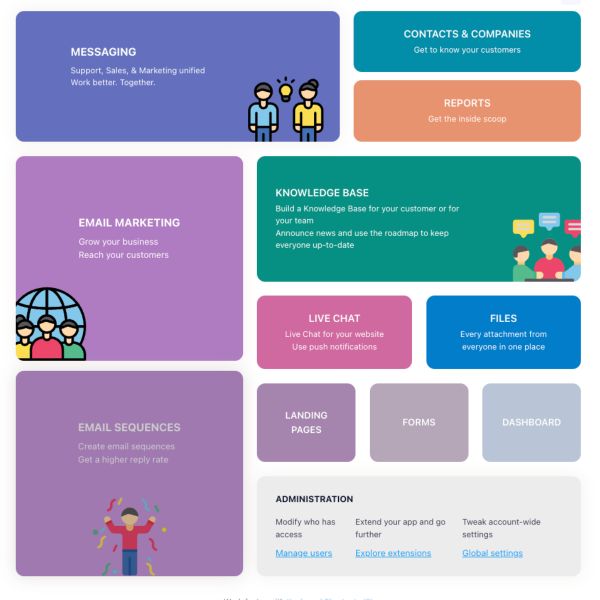 Get more, for less.
Helpmonks is an all-in-one customer engagement platform. It includes a shared inbox, knowledge base, CRM capabilities, email automation, and an entire email marketing platform.
Furthermore, Helpmonks is a (lot more) affordable than Front. You can save up to 80% by switching to Helpmonks.
Best in class support from real people.
Helpmonks is a self-funded company. We're here to help you with anything you need. We're available via email and chat.
Furthermore, we're constantly improving our product. We release new features every week and we're always open to feedback.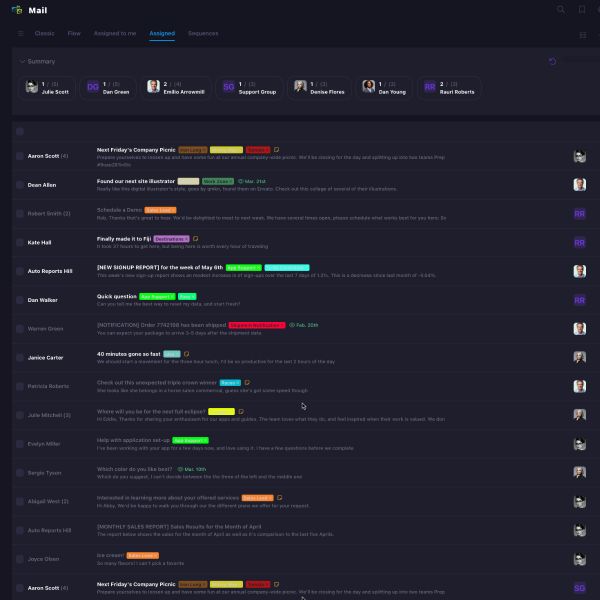 Do you want to see how Helpmonks works?
Create a free account now or schedule a personal demo.
Helpmonks vs Others
Here are in-depth comparisons to other products which people migrate to Helpmonks from.
Helpmonks vs. Help Scout
Upgrade to Helpmonks and get more features for less money. Helpmonks is the modern alternative to Help Scout.
Compare Helpmonks to HelpScout
Helpmonks vs. Intercom
Sick of paying Intercom's high prices? Helpmonks is the reliable and affordable alternative to Intercom.
Compare Helpmonks to Intercom
Helpmonks vs. Frontapp
Got enough of overpaying? You are not alone. See why Helpmonks is the best alternative to Front.
Compare Helpmonks to Front
Helpmonks vs. Groovehq
Enjoy a superior, more mature platform with Helpmonks. Helpmonks is the best Groovehq alternative.
Compare Helpmonks to Groove
Helpmonks vs. Mailchimp
Do more than (over)pay with Mailchimp. Helpmonks includes a shared mailbox, knowledge base, and CRM capabilities.
Compare Helpmonks to Mailchimp
Helpmonks vs. Engagebay
Simpler to use, more affordable, and more powerful. Helpmonks is the best alternative to Engagebay.
Compare Helpmonks to Engagebay
Helpmonks vs. Zendesk
Helpmonks is the best alternative to Zendesk. Helpmonks is more affordable, easier to use, and more powerful than any other helpdesk system.
Compare Helpmonks to Zendesk
Helpmonks vs. Email Groups
Compared to Google Groups or a shared inbox in Outlook, Helpmonks is the better alternative with more powerful features and better team collaboration.
Compare Helpmonks to Email
Helpmonks vs. Team Outpost
Team Outpost was a shared inbox tool that was disolved. See why so many switched to Helpmonks as the alternative to a Outpost mailbox.
Compare Helpmonks to Team Outpost
Here's what you get with Helpmonks
We created Helpmonks to be the foundation for your customer engagement. Use it to collaborate with your team on customer service and marketing, increase sales, and create a hub for all customer interactions.