The new, modern approach to team email
Helpmonks email management software helps teams to collaborate on email conversations, manage email workflows, and increase sales.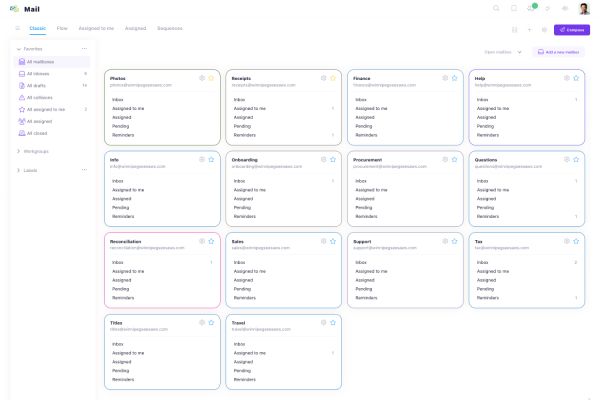 An email management platform to grow with you and your business.
Helpmonks unifies all the tools you need to manage your team emails. Use our intelligent shared inbox with automated workflows to automatically assign emails or get back to the customer within a specific time. Use internal notes, labels, conversion history, and email analytics to collaborate on each customer request in your email inbox efficiently.
However, Helpmonks doesn't stop there. Grow your business and increase sales by using the mighty email marketing platform to send email campaigns directly within your email management solution. Or leverage our email sequence software to send emails automatically. It's like magic.
Besides, our pricing is not per-user because we want you to use our team email management tool and not worry (and be punished) about your growth.
A mighty smart shared inbox
Bring everyone together and enjoy the unparalleled experience of a shared mailbox that is made for your email accounts. With Helpmonks, each team member is on the same page.
Combine your support, sales, and marketing team into one seamless email management suite that provides everything to everyone simultaneously.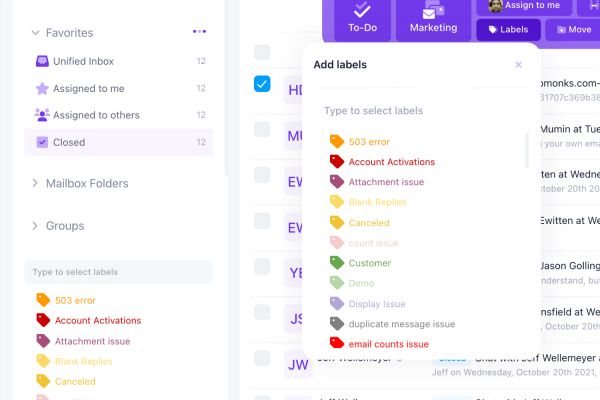 Holistic team emails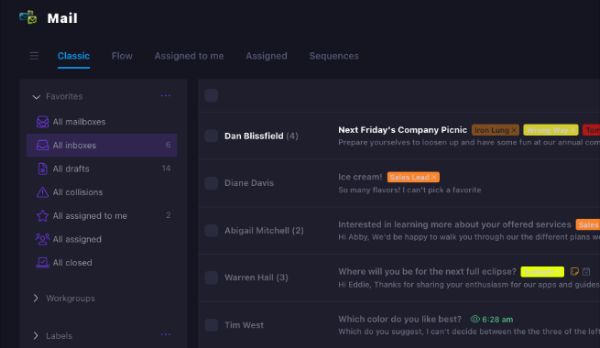 With Helpmonks, every email, every live-chat message, and every message from your marketing team is available to everyone. Your team knows about every interaction with the customer. No more guessing. No more forwards.
All team members work in an open collaboration platform, and managers and team leads know who is working on what at any point in the customer journey.
Made for teams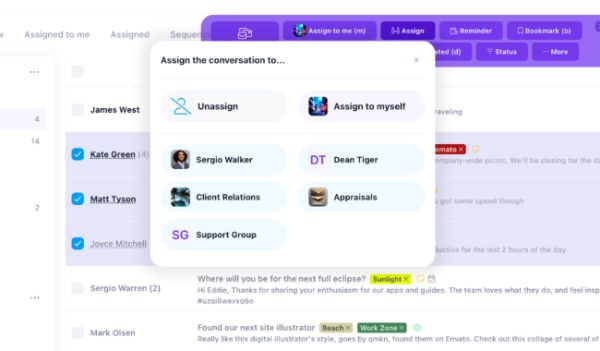 We understand that your email is time-sensitive and mission-critical. Email collaboration is at the core of our system approach; we didn't just build a tool around email. We created a system around you and your team.
That also shows in our recent investment into our infrastructure, as we now run over 500 high-powered servers to power a fast shared inbox experience for you with a 99.99% uptime.
No more (email) forwards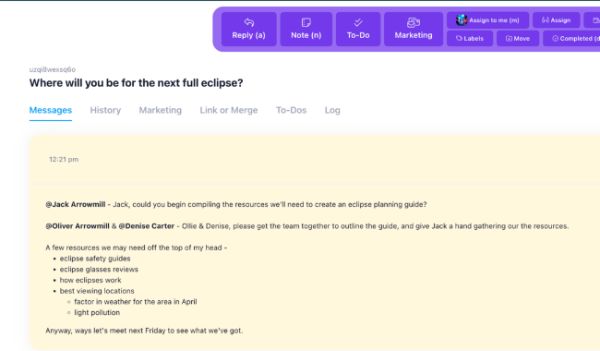 With Helpmonks, there is no need to forward emails to your team colleagues or create an endless email thread with a zillion CC addresses. Just one simple-to-use system for everyone.
To collaborate on emails, use internal notes with your team. Notes act like emails, i.e., you can attach files, copy and paste images, and mention as many people as you like. However, a note can be searched, readily available, and pinned to the top, so everyone is notified of important information.
Email Templates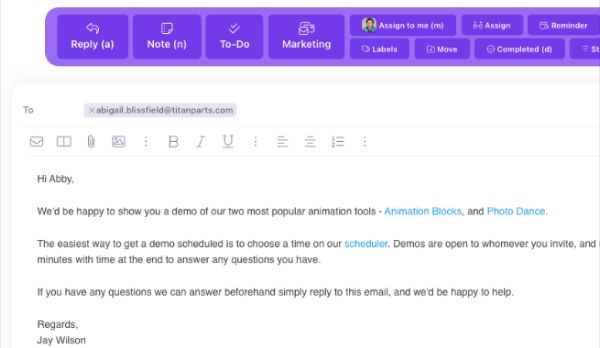 Write once, and use it forever. With email templates, aka canned responses, you can share your most used replies with your team. Additionally, we made it possible so that you can group your answers and search for them when you compose a message.
Our customers use these email replies together with embedded videos, attachments, and even a short knowledge-base article as a reply. Another customer replies to each order with a customized order confirmation.
Email Task Management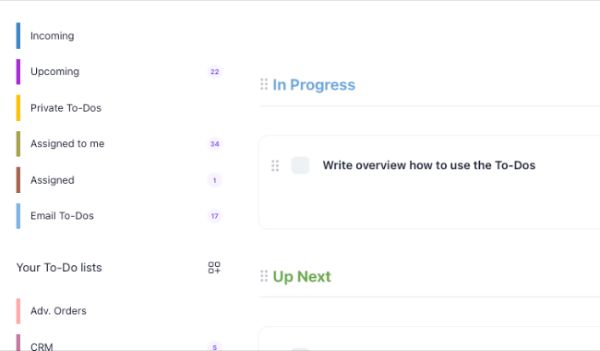 Assigning an email is great. However, what do you do if you need more tasks to be done on one message or if you need an answer from different departments?
Our solution to the above is our ToDo Manager for teams. You can create a task from any email within Helpmonks and assign it to a team member or yourself. See at any point if all the todos are done within the ToDo overview.
Real-time Reports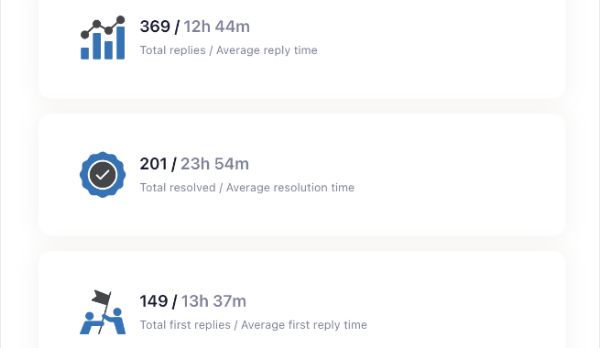 On top of an entire email management software, you also get a deep dive into your customers and your team's performance.
See in real-time how many emails you received on any given day, how many emails got assigned, and how many emails received an answer within your set response times. Get a 360-view into the behavior of your customers and companies and adjust your team workforce.
Organize your emails how you like it.
Organize your emails the way you and your team like them. With Helpmonks, you have a powerful tagging/labels system that allows you to quickly tag or archive emails.
However, tags can not only be used for emails but also to organize your contacts and companies. You can then use them to send an email marketing campaign or create a workflow rule for your shared inbox.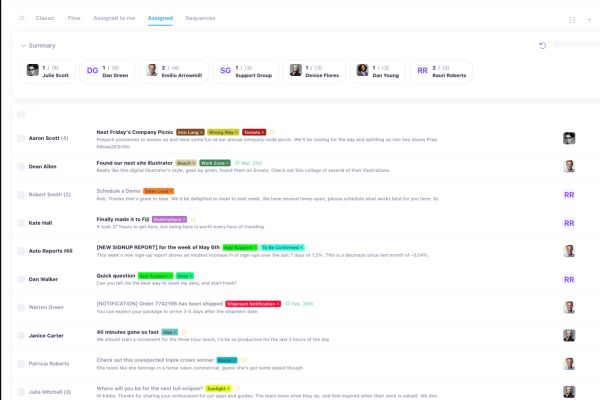 No more duplicated replies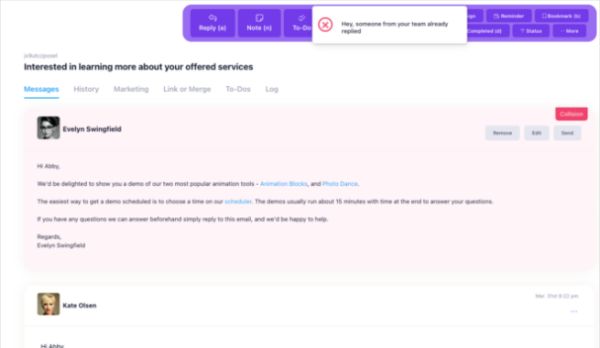 It isn't delightful when your customer receives an answer to the same email twice, and more embarrassing is when the answers even collide or are not aligned with your corporate policies.
We take care of this for you automatically. Our collision detection engine ensures that only one person can simultaneously reply to the same email. On the other hand, our "Approval Engine" allows messages to be approved before they are sent to the customer.
Know your customers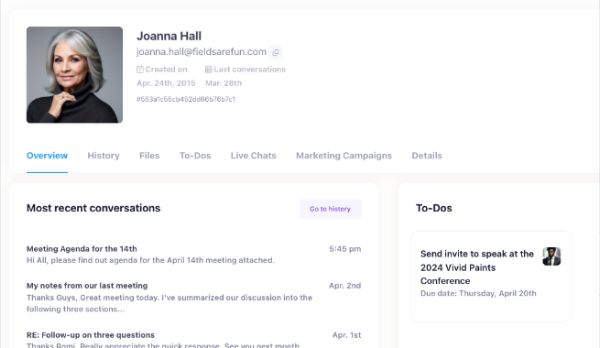 You got all your critical customer communication already in your emails. Why use another "silo" to manage them further? And why especially pay (a lot more) for that system?
Customers of Helpmonks not only get an excellent way of email management but also get access to an advanced email CRM. See all customer activities within a convenient dashboard and make insightful decisions right then and there
Lighting-fast search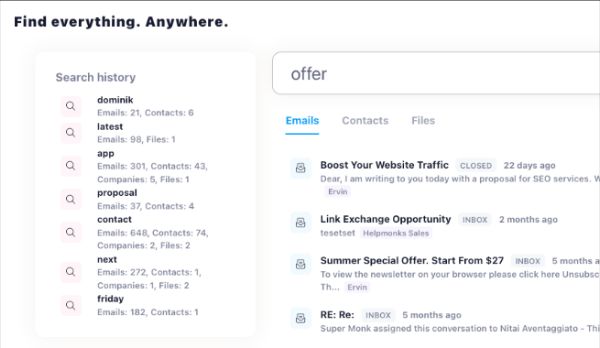 The endless waiting time to find that important message in Outlook is over! With Helpmonks, you'll find everything in milliseconds.
Are you worried about what will happen if you have millions of messages? Fret not. Customers with millions of emails attest that the search speed hasn't changed much for their email tools. Find emails, chat transcripts, past marketing messages, and attachments in Helpmonks forever.
A Marketing Inbox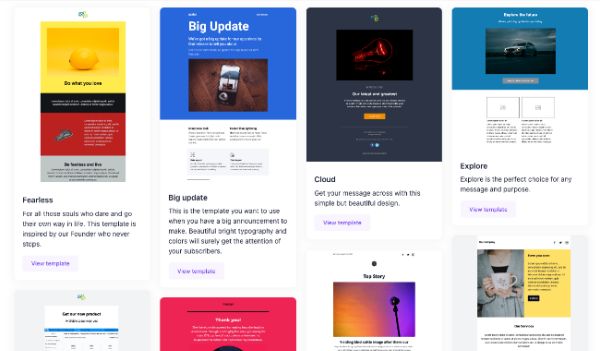 Everything in Helpmonks is accessible to your whole team. Every email, every chat transcript, and every customer interaction. Now, your marketing department can join as well.
Adding contacts to your mailing list is one click that every team member can do. No more tediously maintaining a separate email list in Mailchimp to send your email campaigns. Furthermore, send automation emails directly with Helpmonks to automatically follow up with leads.