Workgroup email collaboration is natural in your shared inbox
Collaborate in your shared inbox and work better together towards a great customer experience.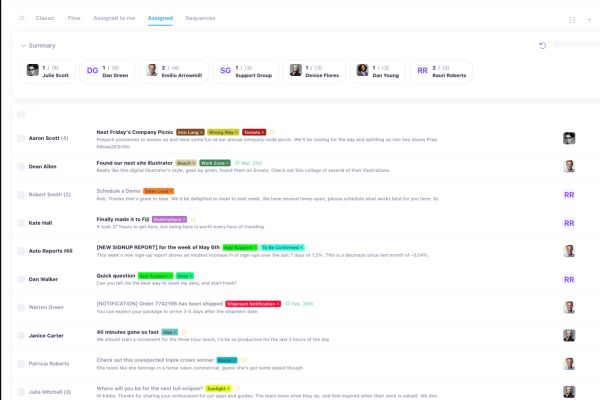 Work better together as a united team.
The Helpmonks Workgroups for shared mailboxes are here to empower your whole team to become successful. It's the natural extension for your shared emails and gets out of your way to get work done.
With Workgroups for emails, every team member knows that everything is organized and no emails will fall through the cracks. Email conversations get assigned to the whole team, so no matter who is currently on the clock, rest assured that emails will be addressed.
With Helpmonks Groups, it's easy to see the big picture and get control of the day.
Grow together as a united (email) team.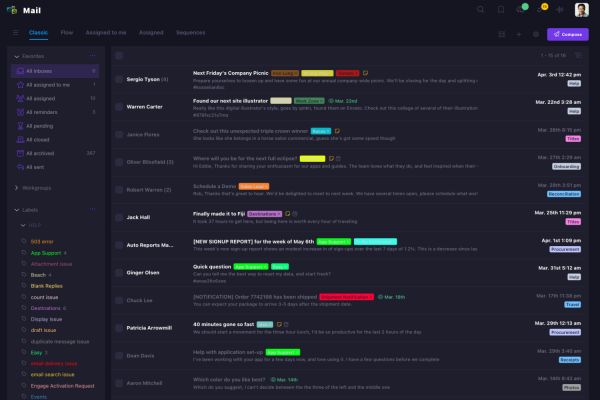 The Helpmonks Workgroup option brings your whole team together to collaborate on email conversations. Provide access to several mailboxes to a group and provide them with a unified view of all the emails. Email conversations can then be assigned to a Group and not only to individual members.
Helpmonks Teams enables deep collaboration within the organization so that every department stays on the same page. At any time, any place, and anywhere.
Perfect for teams of any size.
Bring everyone together. Independent where each team member is located.
In today's world, many organizations operate worldwide with remote teams in different time zones. Helpmonks brings your whole team together into one central place.
The Helpmonks Workgroup brings everyone together to see all the assigned emails. No more hunting around in email silos or waiting for a team-member to forward an email to you.
Email conversations in different mailboxes are available in one place for your team to see.
Work better together.
Unify your team workflow across different departments with Helpmonks Workgroups. Combine your mailboxes into one place.
The Team view gives you one place to see all the emails assigned to the team. You immediately know of all email conversations and the day's workload and proactively work with your team on pressing topics.
The Helpmonks Workgroups inherit all features of a mailbox, i.e., leaving a note to others, mentions, reminders, labels, and more.
Always there in your shared mailbox.
Keep track of each assigned email conversation of your team. Make a coordinated decision about when and how to reply to your customers. Even when an email conversation is assigned to a Group, it will still be available within each shared mailbox for others to see and contribute.
Helpmonks Workgroup is your potent partner for customer management with the Team To-Do app and the Helpmonks Customer Relationship Management.