Did you know that email is the most popular customer service channel among consumers when communicating with you? 62% of consumers use email, while 47% use live chat, and 41% speak in person.
Suppose you run a small business and you're looking for a shared inbox solution. In that case, you should think about using one that will satisfy all your customer needs.
Right now, you might be stressed about using different types of software to reach your customers in different ways for customer support or your email marketing campaigns. You might be asking yourself:
Is there an email management solution that includes all the features I need so I won't have to use multiple types of software?
Yes. There is. Once you know what these features you need are, you can find a shared group email solution with all of them. It will be designed to make running your business easier.
This way, you can focus on what matters most: running your business, getting clients, and making money.
To learn more about the features to look for with a shared inbox solution and how to use them most effectively to increase customer satisfaction, read on.
Shared Inbox
An essential feature of a shared inbox is that it is a team-shared inbox. You may be asking yourself, "What is a shared inbox?" A shared email inbox is an email account that your entire team shares, which they can use to receive and send emails.
When your team is doing this, they're using the same email address.
That's especially useful in coming across as professional to your customers. It also makes it easier to communicate with customers and keep track of how emails go back and forth.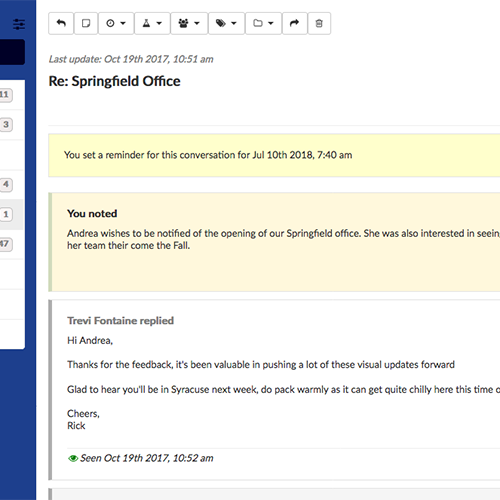 These are the benefits of team inboxes generally. Let's take a look at some additional services.
At a Glance
With a full-featured shared inbox, your team can collaborate when sending out or replying to emails. It's also a simplified email workflow system. There isn't the complication of a ticketing system.
Additionally, it's easy to organize your entire team's emails. You can do this by leaving internal notes, tag a conversation, assign emails, and doing much more. Any essential shared inbox solution has these basic capabilities out of the box.
Getting Organized Is Automatic
When you use our shared inbox, getting organized is automatic. The moment you open your email on the backend, you see how many emails need a reply and what you need to get done today. You can also easily prioritize and organize emails and assign them to other team members with one click.
Additionally, you can close inquires that have been completed and archive any crucial conversations. It's also easy to track SLAs, companies, and customers with built-in customer management tools and workflows.
Helpmonks takes this a step further. There are automated workflows available that will ensure that your team meets the SLA response time without manually checking your email.
Internal Notes and Reminders
You can leave notes for yourself and colleagues about the emails without the customers seeing a thing. Additionally, when you use a full-featured shared inbox, you can set reminders. That way, if there's an email you have to reply to by the end of the week, you won't forget to get to it.
With the Helpmonks shared inbox tool, you can also get through your emails fast using the "Do-Not-Disturb" feature. With it, you will focus on getting through your emails undisturbed, meeting your time management goals.
Helpmonks also features a convenient overview of emails that are "Assigned to me" and "Assigned to Others."
Live Chat
One of the best features that come with a full-featured shared inbox is the live chat feature. Using a live chat on your landing pages makes it possible to communicate with your customers in real-time, providing them with real-time customer service. Instead of your customers having to wait for an email reply, they can get a response immediately.
Considering that customers want to use live chat to learn more about products before buying, this will guarantee that you'll make more sales and have more loyal customers.
Additionally, because the live chat software is integrated into the Helpmonks shared inbox software, you get in-depth customer insight when customers start to communicate with you.
To use the live chat feature with a full-featured shared inbox, all you have to do is add the Chat-Widget to your site. You can also attach to it multiple websites if necessary. Immediately, your sales team will have real-time access to your sales or support team.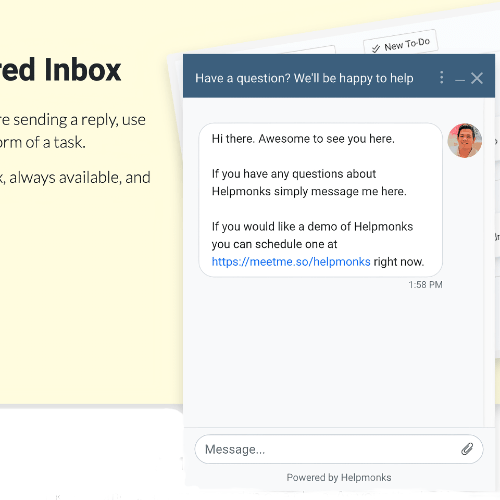 There are additional advanced features that come with the live chat feature. They will make it easier for you to use live chat to run your business more smoothly.
If you use the Helpmonks shared inbox solution, one of these features is the Groups feature. To use this feature, you can create different Groups (we recommend assigning each one to each website). For instance, you would make a Sales Group for the LiveChat on your landing page. On the other hand, you would create a Support Group providing chat services within your app.
Then, once you have these Groups set up, each one can have unlimited chats, individual settings, and more. There is no limitation in the number of users you can use with the Helpmonks Live Chat.
The features don't stop there. For instance, the saved text snippets allow instant reply by selecting common phrases that your chat agents might repeatedly encounter in chats.
A crucial feature is the Targeted Chats and Triggers. With targeted chats, you can invite users to enter a conversation with your team or show a notification, for example, for a promotion. You can create a trigger based on the time the user spends on your website, what page they are on, what browser or platform they are using. Based on that, you can send a notification, open the chat window, show a form, or redirect the user to another page and many other actions.
Additional features include detailed Reports and real-time visitor statistics giving you invaluable insight into your sales and marketing strategies.
Email Campaigns
Another feature that comes with the Helpmonks full-featured shared inbox is the Email Marketing Platform. With it, you can send out email newsletters and create automated marketing campaigns.
With an effective email marketing strategy, you can promote services, drive up e-commerce sales, increase your revenue and online sales.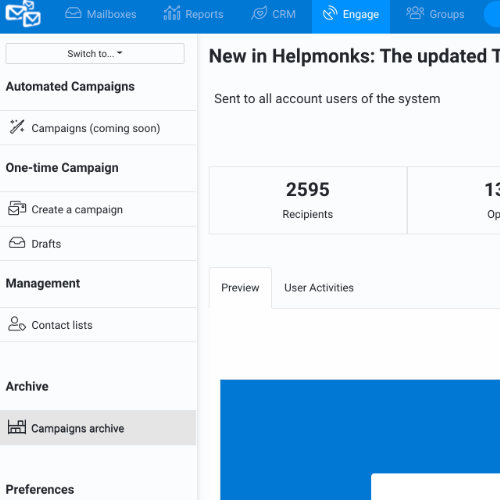 Many business owners go through the work of using automated email campaign software separately. By using a full-featured shared inbox like Helpmonks, you can do everything from one place. Together with intelligent analytics, you will get uncomparable insight into your customer interaction.
Increasing Your Sales
With a full features email platform, like Helpmonks and the embedded Email Marketing Toolkit, you can increase your sales. It's easy to send emails that are targeted to different segments of customers.
All you have to do is create a mailing list (also known as a distribution list). Then, you'll add individual users, companies, or customers to this list. When doing this, you can add labels to keep everything organized. If you want to send a targeted email to several mailing lists at once, you can do this, too.
There are also newsletter email templates available. You can also guarantee that your emails get read because the email server makes it possible to get high delivery rates. You'll also get a complete history of interactions with every customer.
Lead Generation
Lead generation is also possible with a full-featured shared inbox because marketing tasks are automated within this platform. When marketing is automized, it's easy to promote your business's lead score and acquire customers easier with engaging and personalized content.
Instead of being sent out in a big blast to many people, automated transactional emails are sent to one person at a time. They're highly focused and personalized for each customer on the email list. They're sent out depending on what step of the customer journey your customer is on.
Email marketing automation is the secret sauce to success for every business. Use Helpmonks's marketing automation platform to create a drip campaign to increase success and sales.
CRM
A full-featured shared inbox also has a customer relationship management (CRM) tool. Instead of investing in a separate CRM tool, you can use the CRM that comes with Helpmonks. The embedded CRM will make it easier to get new leads and make your customer retention higher than ever.
Keep Track of It All
When your CRM is integrated into your shared inbox, it's easy to keep track of your customers during every step of communicating with them. When a customer contacts you through email or live chat, you will have a comprehensive overview of each interaction with the customer within your shared inbox.
Additionally, you can set reminders so that you don't forget to follow up with customers at a time when suits. You can also store any data that's relevant to converting them into leads.
Your shared inbox becomes a complete CRM. It will also capture your active deals. Of course, this isn't the case with all shared inbox solutions, but it is with Helpmonks.
Adding Context
Anytime you have an active email thread, you can add context to it. Include information such as contact information, deal sizes, notes, and more. The CRM feature also summarizes each email thread. Adding context can also be achieved with the custom fields add-on.
With a glance, you can have all the information you need about the customer, the product or service they're interested in, and where they are in the purchasing or lead process. Instead of having to stop and take stock each time you reply to an email, you can get them their answers fast.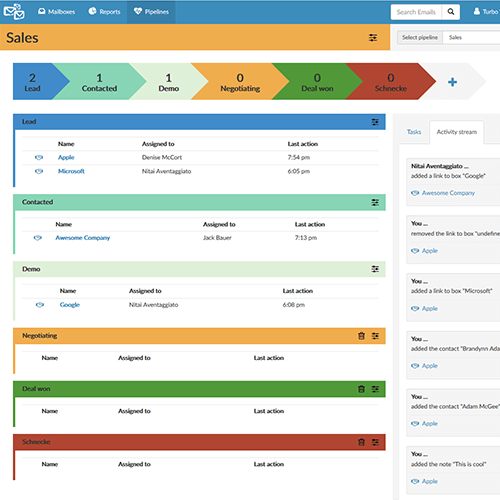 Whether you're managing sales, service, or support, this software's CRM feature makes it easy to stay in touch with your customers in all of these communications stages.
Sidebar for Ease
When you're going through your emails, you can use the sidebar for ease. Within the sidebar, you will find all the information you need about your current deals. For instance, you will find all the relevant data on the customer, your custom fields, labels, and the option to add the contact to any of your email campaigns.
You can also leave notes on this sidebar for members of your team. These can refer to different sales stages, such as "Negotiation," "Demo," and "Contacted." You can also use reminders to make sure you don't forget to continue forward in the process.
Note that these features are only available with the Helpmonks shared inbox solution.
Team to-Do App
The Helpmonks shared inbox platform also comes with a Team To-Do App. The To-Do's make it easy to organize all pending tasks so that you ensure they get done. Instead of needing a separate software to do this, you can directly do it within your sharded inbox.
Because a full-featured shared inbox is synced to all devices, it's easy for your whole team to use the Team To-Do-App. If you find the features below helpful, you should consider getting Helpmonks, which includes them.
Creating and Assigning Tasks
When you're using the Team To-Do App within the full-featured shared inbox software, creating and assigning tasks is easy. You can assign a To-Do to any other team member.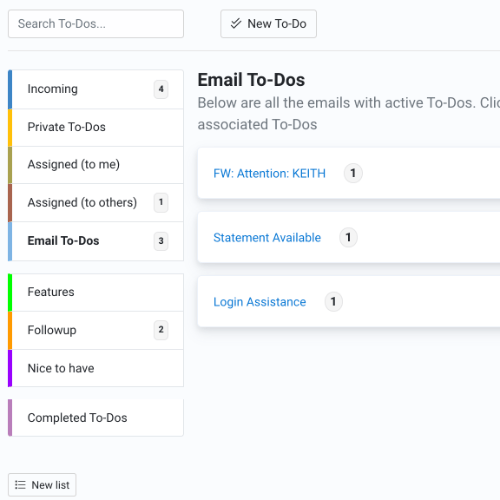 In addition to keeping things organized, this will help your team members know what you expect of them. You can also create individual tasks that are just for you.
Attach Tasks to Email Threads
One of the Team To-Do App's best features is that you can attach tasks to email threads. So, let's say you have a team member who specializes in answering customer queries about products. When a customer query comes in, this process is simplified.
All you have to do is assign them the task to answer a customer query, attached it directly to that email thread. If this task needs to be done fast, you can provide your team member with a due date, making the process faster and more transparent.
Need More Information?
Now that you've learned about how you can use a full-featured shared inbox for all of your customer service needs, you might need more information.
Maybe you want to learn more about how to create an email campaign effectively in your industry? Or perhaps you want to learn more about how to use the CRM feature?
Whatever information you need, we're here to help. At Helpmonks, we're experts when it comes to serving your customers and using a shared inbox most efficiently. To learn more about how we can help you, contact us now or sign up for a 30-day free trial.