If your team doesn't have a marketing funnel, they are less likely to convert leads into sales. Fewer sales mean less money for your business' profits.
If you want to avoid this statistic and turn your prospects into long-term customers, you need to invest in a marketing funnel. It's not enough to wait for the customers to come to you and buy something. You need to make an effort to grab their attention and find one of your products or services that will appeal to them.
Whether you're new to the idea of a marketing funnel or you'd like a refresher, you've come to the right place. Just keep reading to find out everything you need to know about marketing funnels.
What Is a Marketing Funnel?
If you're looking for the best of the best in marketing tactics, the marketing funnel is exactly what you're looking for. The marketing funnel is a metaphor that aligns every step that a consumer makes in the purchase of a product or service.
Buyers don't buy something that they want the instant that they think about it. There are steps that every single consumer takes in the decision-making process:
Knowing about a product or service
Becoming interested in that product or service
Thinking about that product or service
Deciding to buy that product or service
Buying that product or service
The funnel details these steps and guides sales representatives on how to flow customers through this funnel.
The marketing funnel uses this shape because of the natural flow of consumers. You'll never turn every single prospect into a lead. With every step in the process, people fall off. This creates a funneled shape with more prospects than actual customers.
Other Popular Uses
Although it is the most popular use for the marketing funnel, making sales isn't the only reason for creating a marketing funnel. Businesses can use marketing funnels all over their website:
Marketing funnels can track those who sign up for events
Marketing funnels can track newsletter signups
Marketing funnels can track clicks across your site
Marketing funnels can track customers viewing certain pages
If you want a customer to do something on your website, you can use a marketing funnel to see that action's success.
However, for this article, we'll focus on how you can use a marketing funnel to make sales.
Why Are Marketing Funnels Beneficial?
Marketing funnels are the key to any good marketing strategy. In fact, it is one of the top marketing tips that successful companies will give you.
One of the biggest benefits of using marketing funnels to track your sales progress is to see where you're losing customers along the way. With the marketing funnel, you'll be able to see when prospects are falling out of the funnel.
As we said earlier, not every single prospect becomes a customer. A marketing funnel can tell you where you lost them along the sales funnel.
Using the steps we posed earlier, let's look at an example. You might have a customer who knows about your product, is interested in your product, has thought about your product, and has now decided to buy your product. However, they have not bought any of your products yet.
Perhaps they are waiting for a sale or forgot about your product in light of something else they wanted or need to buy. No matter what happened, you now know that you lost that prospective sale after the decision-making stage of the funnel.
From this, you may conclude that you need to send reminder emails. Maybe you need to strengthen your marketing so that the customer remembers the product that they wanted to buy.
By finding out where you're losing customers, you can better prepare for future potential sales.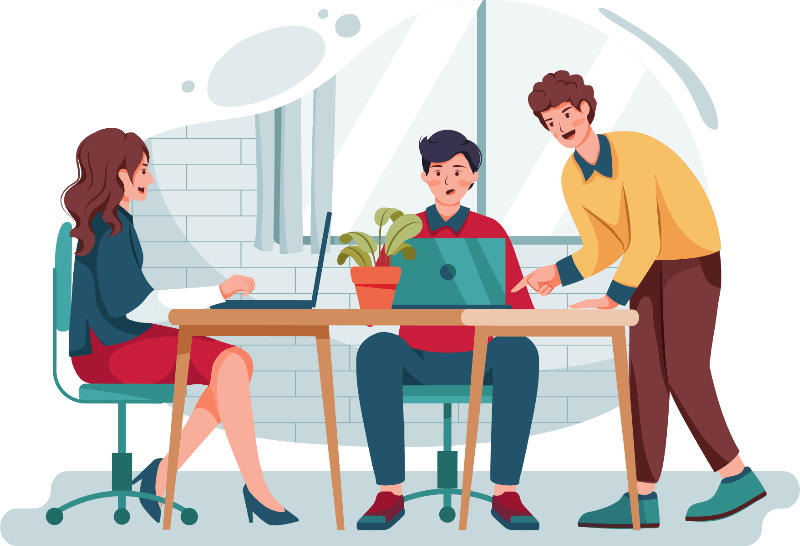 What Are the Steps of a Marketing Funnel?
As we vaguely mentioned earlier, the marketing funnel has steps. If you're going to take advantage of the marketing funnel to its fullest, you need to understand each step.
Furthermore, you need to understand how each step applies to your company and its customers.
So, let's walk through each step and talk about what this may look like for your company.
1. Awareness
First off, the customer has to become aware of your brand. Once someone finds out about your business, they enter the marketing funnel.
This means that every person who comes across an advertisement on a social media app or hears about your service through another person is in your marketing funnel. Do you see how broad this is? That's why the marketing funnel begins broadly and goes down to more specific individuals.
At this stage, you need to make sure that you're giving an introductory offer or another eye-catching thing. This is where you can draw these individuals further into the marketing funnel.
By showing people who you are, what you sell, and how it can help consumers, you'll be more likely to get more people further along in the marketing funnel.
The easiest way to make people aware of your brand is by using social media marketing. Today's consumers are all online looking for the next thing that they want to invest in.
Your goal here is to get the individuals that now know about your brand to continue exploring it. Maybe they click on your post and look at your profile. Maybe they click the link you shared to go to your website.
Whatever they decide to do, this gets them further into the marketing funnel. If you gain a follow, a like, or a website visit, you've been successful in this part of the marketing plan.
2. Engagement
Next comes engagement. This stage in the marketing funnel involves interacting with your audience once they've started exploring your offers.
The key in this part of the marketing funnel is giving leads value. This is why many companies have blogs just like this one. It's a great way to offer content and advice to consumers while letting them know about your services.
Today's consumers are focused on trustworthiness and respect. If you're going to attract customers today, you need to prove that you have the knowledge that they want.
As you're sharing information and giving your leads more information about your business, you need to consider growing your email list. Email marketing is the best way to interact with your audience and lead them down the marketing funnel. That's right: email isn't dead.
While you're growing your emailing list, you may also consider using social media hashtags and other interactive tools to bring in prospective sales. The more outreach you do, the wider a net you're casting. Or, rather, you're casting a wider funnel.
Nonetheless, you're bringing in potential customers and trying to show them that you are the authority that they should trust on whatever topic you're focusing on.
3. Conversion
Now, we've reached the conversion stage of the marketing funnel. Whether you're one of many smaller business owners or one of a few large business owners, your favorite word is probably "conversion."
Converting more customers is a consistent business goal. It is the point at which a lead becomes a customer. Or, in other words, it's the mark of the official first purchase of one of your products or services from an individual.
Again, this is where email marketing comes into play. Email marketing is an invaluable way to encourage consumers to make a purchase. Whether you're sharing a sale, a story, a new release, or something else, you're bound to get someone thinking about your products and services.
Other ways to encourage conversions include social media, Google Search, display ads, your website, and more. Anywhere where someone can see an ad or post of yours is a great conversion tool.
However, if you want to encourage a purchase, you should include a great introductory offer. It's unlikely that someone will buy something off the bat unless you make it sound like an exciting time. You'll draw in even more interest and sales if you place a time limit on the offer.
Once you've converted the lead into an official customer, it's time to win that person over for good.
4. Advocacy
If you're looking to build lifelong customers, this is the best stage in the marketing funnel. You can't forget about advocacy.
After the customer has made the purchase, communication shouldn't stop. You shouldn't be satisfied with a one-and-done sale. You should work on setting up the proper tools for encouraging repeat purchases.
Many businesses forget this part of the marketing funnel and suffer because of it. Without thinking long-term, they aren't setting themselves up for future success.
Your goal here is to take care of a customer so well that they tell everyone they know about your company and how great it is. This means that they'll continue to purchase from you, and you'll also likely gain other customers in the process.
Imagine how amazing this would be for your business if it happened over and over again. You'd have a complete shift in demand!
The easiest way to grow your business using the advocacy stage is through email automation and marketing automation. With these automated practices, e.g., an email drip campaign, you can encourage shopping through your social media, website, or online store.
The point here is to keep the consumer interacting with your brand. Remind them of your existence and make it clear that you are the best choice for the product or service they're investing in.
What Is an Example of a Marketing Funnel?
Because there are so many different kinds of stores out there, it is hard for us to pin-down how your exact business will fit into the marketing funnel. For the sake of this example, we're going to look at the marketing funnel for an online store that is selling shoes.
Let's see how our hypothetical lead turns into a customer via the marketing funnel.
The Marketing Funnel for an Online Store
Let's say that Jessica is scrolling through her Instagram feed. She sees pictures of her friends, family, and – wait – a new pair of shoes. She sees that these shoes are waterproof, stain-proof, and 20% off.
She clicks on the link that the post shows and sees that she can buy these shoes in her size online. But, she only has two more days to buy them if she wants to take advantage of the sale. As she's looking at the shoes on the store's website, she gets a text message.
She clicks on that notification and forgets about the shoes.
Later that day, she sees the advertisement again. She clicks on the link and sees that she must provide her email to get the coupon code for 50% off. She provides her email and forgets about the shoes once again.
The company sends a reminder email on the last day of the sale, leading Jessica to buy the shoes.
A couple of days after her purchase, the store sends a follow-up email asking for a review of the shoes. With this, they link more shoes that Jessica may enjoy from the store.
In this example, we can see the marketing funnel as the following:
Awareness: Jessica sees the Instagram post
Engagement: Jessica clicks on the link
Conversion: Jessica buys the shoes
Advocacy: Jessica receives an automated email following the sale
How Can I Implement a Marketing Funnel?
It's time for you to grow your business. Even if you're one of the many small business owners around the world, we highly recommend that you take advantage of everything that a well-established marketing funnel can offer you.
With a flawless marketing plan, your business will thrive.
To make things easier, we recommend using our all-in-one platform for customer support. Everything you need to interact with and take care of your customers is accessible with the click of a button with Helpmonks. You don't need to worry about miscommunication or lost messages.
Plus, we're even offering a free, 30-day trial. Get started today and discover all of the perks that come with a customer-focused platform. Prospects will become customers faster than ever.