Many organizations have discovered that they need to provide an easy way for customers to connect with them. Apart from email, live chat is an essential ingredient for a business's success and growth. Offering direct live-chat support provides enormous benefits over the usual method of traditional customer service. Adding a chat widget to your site can even be the differentiator between a satisfied client and an unhappy one.
Here are some key stats we've gathered:
Most customers prefer communicating via Live Chat​
It can expand your market reach​
It offers a competitive edge​
Provides Real-time support​
Live Chat increases Sales​
Develops long-term relationships ​
Offers proactive outreach ability​
Here are some statistical numbers to show the impact of Live Chat:
79% of consumers prefer live chats for instant responses (Source)
87% of companies adopted live chat to connect with web visitors in real-time (Source)
79% of businesses said that implementing live chat resulted in increased customer loyalty, sales, and revenue (Source)
Marketing awareness (+29%)
Early-stage sales development (+32%)
Post-sales customer support (+39%)
More than 30% of customers expect to see a live chat system on your website. Thus, if you are not using a live chat software system, you are losing many business opportunities.
If you are a small business, you are already using various tools to increase website traffic and increase the sales. From our own experience, providing Live chat is the most efficient tool to qualify leads and increase sales. Another vital customer service skill is providing a fast response time by email, mobile app, or social media.
What's surprising is that a study found that 63% were more likely to return to a website that offers live chat and 62% reported being more likely to purchase from the site again. A further 38% of respondents said they had made their purchase due to a previous chat session with a support agent.
Increasing customer satisfaction will increase your profit
The online sales funnel has seen significant changes as people spend more time exploring and comparing products online than ever before. Adding a live chat feature or a knowledge base to your website educates and empowers customers with relevant information.
A companies marketing strategy should plan to include live chat, email campaigns, and marketing automation. With these tools at hand, your customer service representatives will be able to create a delightful customer service experience and, in return, boost sales.
Providing timely customer support will increase your profit
Live chat is one of the most immediate forms to improve customer experience. Nowadays, people want to get answers fast. Your website visitors will not wait for hours after filling out a form on your website to submit a question that sits in your ticketing system. Delivering a fast, personalized service builds customer loyalty, and the economics of customer loyalty work in your favor. Harvard Business Review estimates that increasing customer retention by as little as 5% can increase profits by 25% – 95%.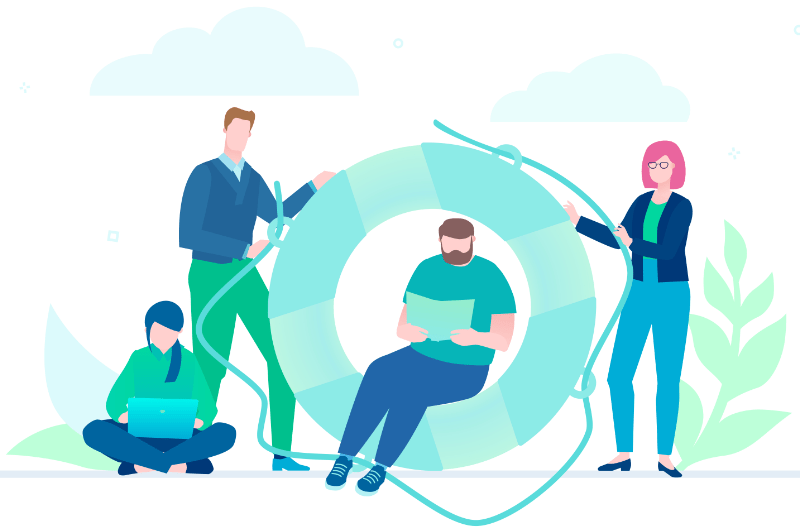 Live Chat Delivers a More Personal Experience
With the use of website chats for business, you can talk to your potential customers on a much more personal level. With Live chat in place, you can ask probing questions, provide suggestions, and even offer complementary services based on direct interaction with the customer.
However, make sure that your live chat is not only handled by members from the sales and marketing department. There is nothing more frustrating for your customers than to talk to someone who doesn't know the product well or can't provide accurate answers.
Have Personal Conversations That Engage Customers
Shopping online is convenient, but it can also feel impersonal. Live web chats enable online retailers to create a personal connection with each shopper. A customer engagement platform like Helpmonks enables agents to respond to customers in real-time. When consumers feel that customer service genuinely cares, they are more likely to purchase.
Sell and Troubleshoot Proactively
When shopping online, some consumers may navigate away from your website rather than ask for clarification or assistance. A website sales chat feature cannot increase sales or engagement if people don't use it. With customer engagement software, representatives can start conversations proactively, prompting customers to engage even if they usually aren't accustomed. Chat customization gives service agents the ability to address purchasing issues and product-based questions before customers abandon their cart or leave the website altogether.
It's therefore essential to deploy a live chat tool that features – Targeted Messages. With Targeted Messages, you have the option to prompt your website visitors to join a chat or make them aware of a promotion automatically.
Integrate Conversations Across Channels
Today, people want to engage with eCommerce companies through the channels that are most convenient for them. Businesses need to integrate cross-channel conversations for customers who prefer to communicate through text and webchat. Cross-channel tools enable agents to respond to messages consistently and efficiently as customers switch devices. Such a strategy creates a seamless customer service experience.
Use marketing automation
Once your live-chat session is over, you should make sure that you receive the chat transcript by email (best into your shared inbox where everyone from your team has access). Based on the customer profile, you might already see a complete customer history and decide your next steps.
One aspect is to feed your chat interaction into your automated sales funnel. With such email automation in place, you can automatically follow-up with the customer or remind them of your chat conversation.
Marketing automation is the secret sauce that every sales and marketing team should implement to stay on top of the fast-paced eCommerce world.
If you want to drive sales, ensure a quality service around your product and services. Part of this strategy is to combine the many tools you use today into an all-in-one customer service solution.
Helpmonks recently launched a complete Email Marketing Platform called Helpmonks Engage. Helpmonks Engage includes a Live-Chat tool and an Email Newsletter section, including creating automated emails. As such, you only need one app for your shared inbox, customer relationship, live-chat, and email marketing.