Email stands as one of the most widely used communication tools in today's business realm. Its popularity is no surprise, given the many benefits it offers.
One of the most significant advantages is its freedom from the constraints of business hours. You're not limited to a 9-5 schedule - you can send and receive emails at any time. And thanks to automation, you can schedule emails to reach your audience at their most optimal time. This flexibility of email communication benefits business workflows.
But that's not all - email is also extremely versatile. It can handle various forms of electronic data, from simple text to complex data files. Whether you're sending to one person or a hundred, no matter if they're next door or on a different continent, the cost remains constant. This makes email an even more attractive choice for organizations.
The Benefits of Using Email for Business Communications
So how does the use of email benefit business communications? Here are all the ways that using email can impact your business:
Greater Efficiency and Productivity
Email plays a pivotal role in streamlining communication and enhancing productivity in business. It lets you create distribution lists and send important information to a group of recipients simultaneously. For instance, you can send updates about product restocks to all customers at once. You are also able to auto-forward customer feedback to the customer service department.
Email communication benefits also include reducing the dependency on face-to-face consultations and meetings. Instead of coordinating multiple schedules for an in-person meeting, you can communicate important updates or decisions via email threads. This way, even employees working remotely can stay in the loop.
Email customization features like filters and labels let you tailor the nature of work, the volume of daily emails, and the individual needs of the workers. This makes it easy to prioritize important emails. For example, your finance team can use rules to flag high-priority emails. As a result, you can ensure they are not lost amongst all other incoming messages.
Global Reach
Email's universal reach is another major advantage for business communication. Email makes it easy to connect with a colleague in a different office, a customer in another country, or a remote worker in a different time zone.
You can send an email at any hour of the day or night, and the recipient can engage with it whenever it suits them. The global reach of email communication benefits a global business landscape where teams often operate across various time zones or work in shifts.
Email automation allows streamlined communication flow and fosters a connected global workspace. Scheduling capabilities, a feature of many email systems, present a unique advantage for international dealings.
Automation is particularly valuable for global businesses, multinational teams, and enterprises across different geographical boundaries. You can craft an email and set it to be dispatched at a specific time. This enables you to accommodate different time zones, making sure your messages reach recipients at a suitable time in their country.
Targeted Communication
Segmenting and targeting email communications is another powerful aspect of email as a business communication tool. Email allows you to deliver specific content tailored to individuals, departments, or larger groups, catering to their unique needs.
Using the CC and BCC functions, you can adapt these targeted communications by regulating the visibility of recipients and managing the nature of responses received.
Outside internal communications, targeted email segmentation also holds value in customer interactions. Businesses can craft distinct email communications aimed at specific consumer demographics.
For example, if you're a fashion designer, you might devise two versions of an email campaign. One would be aimed at young adults between 18 and 35 years old, and another tailored for women over the age of 50.
Targeting ensures that your content resonates with each group's specific needs, interests, and expectations. This strategic approach can lead to higher engagement rates and customer satisfaction levels. At the same time, it can reinforce the relevance of the company's offerings to its diverse customer base.
Security
Modern business email platforms offer advanced security solutions designed to safeguard outbound emails. This prevents them from being intercepted by unauthorized individuals.
Most email software solutions offer these two mechanisms of protection:
Encryption: This conceals the content and attachments within an email. They become inaccessible to unauthorized entities.
Authentication: Multi-factor authentication (MFA) ensures the senders are verified and legitimate while protecting data from external threats. This method secures emails behind an authentication task that recipients must complete to access the email contents.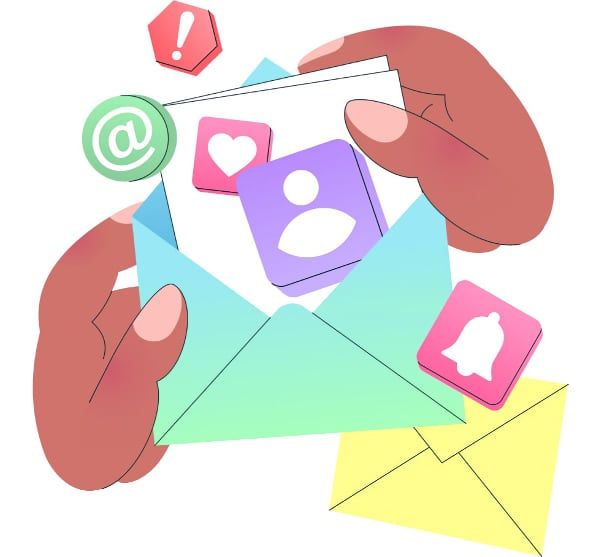 Cost-Effective Communication
Email communication remains an economical choice for businesses. It is often available without any direct cost for personal and professional use. You only need a stable data or Wi-Fi connection to send an email, eliminating any additional expenses.
Unlike traditional mailing methods, email communication does not involve expenses for printing or shipping materials, which can save significant costs for businesses.
Emails also allow for the easy exchange of various types of digital content, including images, files, and even audio and video, without incurring further costs.
Fast Communication
Email communication has revolutionized business interactions by allowing businesses to share valuable data within seconds. This speed is invaluable when responding to customer queries. It allows businesses to offer prompt customer service and foster customer loyalty and satisfaction.
When handling internal issues, quick email exchanges can lead to faster resolutions. As such, it minimizes downtime and optimizes the productivity of business operations.
For business owners, this swift communication means greater efficiency. They can achieve their objectives faster, making the most of their time and ultimately driving business growth.
Record Keeping
Email comes with the advantage of efficient record-keeping. Businesses can easily find and track outgoing and incoming messages.
Users can revisit past conversations when needed and store emails in neatly categorized folders. This feature serves as a useful reminder of past projects and methodologies, which can help you plan future ventures.
Should any disagreements or need for verification arise, stored emails can provide a reliable reference point.
Regarding organization and storage of information, email trumps traditional paper or written documents. It offers a more streamlined way to arrange and store information digitally, reducing clutter.
Email also offers the convenience of storing files within your email account. This means that you have constant access to critical messages or work-related documents, even while on the move. This accessibility is beneficial in today's globalized and mobile world, where work is often completed across multiple locations and time zones.
Conclusion
Email communication has revolutionized how businesses operate, enhancing efficiency and ensuring superior record-keeping. Email facilitates instant communication, efficient tracking, and easy accessibility of information. Because of this, it is an integral part of successful business operations.
Considering the benefits of efficient email management, it's worth exploring platforms that can streamline your business communication further. Helpmonks redefines your team email management experience.
Our platform is designed to help teams of any size to control, organize, and prioritize their business emails effortlessly. Its intelligent, collaborative approach ensures your emails never go unanswered.
Schedule a demo today and experience the difference!