Effective email management is challenging, considering that email is the primary mode of communication for businesses. The average office employee sends about 40 emails daily and receives over 120 emails daily. With such a large volume of emails, it's easy for important messages to get lost in the shuffle.
That's why it's important to know how to manage your inbox effectively and have the right email management tool on hand. This way, you'll be able to easily track, manage, and organize all your emails.
To help you out, we've created this guide with some of the best email management tips and solutions you can use to ease the burden of managing your business emails.
5 Best Email Management Tips and Best Practices
Organizing and structuring emails frees up your time, allowing you to concentrate on more important tasks. Here are the top email management tips that can help you improve your processes.
1. Allocate a Specific Time to Check Your Emails Every Day
Checking emails as they arrive can distract you from the tasks you're busy working on. Although regularly checking your email seems to take little time, it is a distraction that can hinder productivity. You end up constantly starting, stopping, and restarting your daily tasks.
The best way to avoid such distractions is to set specific time slots every day to check and respond to your emails. For example, you could set aside the first 30 minutes of the day to respond to emails that came through after you signed off the previous day. Then you can have a slot around the middle of the day and one at the end of the day.
2. Use Labels, Folders, Categories, and Tags
Inbox clutter can increase stress, and it is difficult to know which emails are a priority off the top of your head. Creating labels, folders, categories, and tags can help you organize emails more efficiently.
Labels and folders are the simplest way to organize your inbox. Labels categorize emails based on topics, while folders store related emails in one place. This helps you scan through important emails without getting distracted by other messages.
Categories and tags are more sophisticated tools that go beyond basic labels and folders. Categories group emails together by specific topics. Tags add keywords to emails for easy searchability. This helps you track down emails containing information on a topic or keyword without scrolling through your entire inbox.
Ensure you use memorable, search-friendly words for your labels. You can also use different colors, making it easy to filter conversations. For example, you can use red for emails with urgent customer issues that need to be addressed immediately, making it easy to spot and prioritize them.
3. Flag Emails That Need More Attention
Not all emails need the same level of attention. For instance, an email about a test reminder requires less attention than an email about changes in the company policy.
To make sure important emails do not get lost in the clutter, you can flag them. This will help you manage your emails by allowing you to focus on the important messages first.
Flagged emails appear in a separate section of your inbox, making it easy to identify important mail.
4. Unsubscribe to Promotional Emails
If you're getting a lot of unimportant promotional emails, declutter your inbox by unsubscribing from these mailing lists. Too many promotional emails make it easy to miss crucial emails.
Most promotional emails have an 'unsubscribe' link at the bottom. Click on it to stop receiving any further emails from that sender. If you have a lot of subscriptions, set aside time during your work day to unsubscribe from them. Alternatively, try to remember to click 'unsubscribe' when you see these types of emails come through.
5. Use a Good Email Management Tool
As your business scales, it becomes increasingly difficult to manage your emails manually. An email management solution can help you categorize, search, and prioritize emails better. This will improve response rates to important emails and increase productivity.
When choosing an email management tool, ensure it has a robust search function to help you quickly find emails. Also, look for features like:
Security: You cannot afford to compromise the security of your customers' data. Ensure your email management tool provides the right levels of security and encryption for data stored on its servers.
Integration with other platforms: An email management tool that integrates with other software, such as customer relationship management (CRM) systems, helps streamline your workflow and communication.
Simplicity: A tool that is easy to use takes less time to learn, so your employees can start using it quickly.
Scalability: Choose a tool that can meet the needs of a growing business, in terms of storage and features.
Automation: Automation helps you streamline your workflow and save time on mundane tasks such as email forwarding and auto-replying.
Cost efficiency: Choose a tool that saves you costs in the long run by eliminating manual processes or reducing server resources.
Now that you know what to look for in email management tools, check out our top picks below!
7 Top Email Management Tools to Streamline Your Emails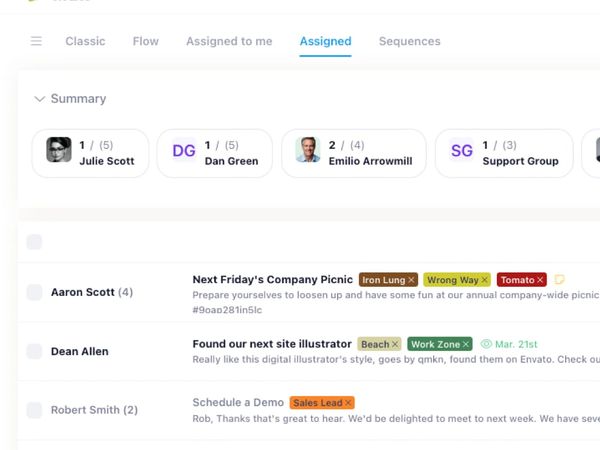 Helpmonks
Helpmonks is a powerful email management platform that combines marketing, sales, and collaboration. It is an all-in-one customer engagement platform that keeps everyone on the same page with its impressive customer support and collaboration tools.
The most exciting thing about Helpmonks is that it is the only all-in-one platform that combines email campaigns, email automation, live chat, shared inbox, CRM, and ToDos for teams. This makes it the perfect tool for businesses looking for a central hub from which to manage all customer interactions.
Main Features
Shared inbox for sales and marketing teams: This feature eliminates the need for group emails or forwarding through CC and BCC. Everyone can see what their teammates are working on, and users can send assignments to specific teams.
Shared inboxes also feature automation - adding a label to a customer sets off triggers such as automated replies. Inboxes include international time zone support so that users can collaborate in real time.
Collision detection: With Helpmonks' collision detection feature, you'll never reply to the same email twice again. This feature works even when you reply to emails outside of the Helpmonks app.
Email delegation: This feature makes it easy to delegate emails and alerts team members when they're late to answer them.
Internal email notes: Keeping the context of your discussions within the email's subject can be difficult. These notes make it easy to keep track of conversations and discussions within emails. You can also create notes for yourself, ensuring you don't forget important things.
Knowledge Base: Creating internal and public knowledge base sites is freely available for all teams.
Email task management: Assign tasks automatically, create task lists, categorize them, and discuss them with your team easily.
Email CRM: With a complete overview of all your customer interactions, you can keep track of all your sales activities with stages and pipelines. With Helpmonks, every customer profile is just one click away.
Email Marketing: With Helpmonks you don't need yet=another-tool for sales and marketing. Built-in email automation helps to automatically follow-up with customers or send beautiful email marketing campaigns. Helpmonks truly brings your whole team into one space.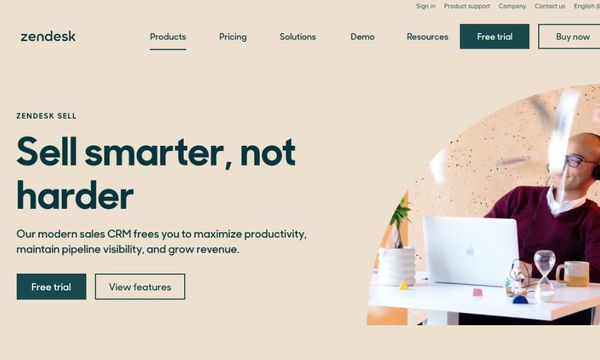 Zendesk
Zendesk helps streamline customer support, making it easy to build and maintain customer relationships. It has dozens of features aimed at helping customer success teams. This complete customer service solution helps businesses unlock the power of customer experiences by letting them connect with customers on multiple channels.
Zendesk is easy to set up and requires no technical knowledge to use. It improves productivity by automating mundane tasks such as collecting customer data and connecting calls automatically. Most importantly, Zendesk allows proactive decision-making through the help of its knowledge base and analytic features.
Main Features
Intuitive: Dynamic request forms provide customer context to employees so that they can give personalized support to customer requests.
Fast, personalized responses: Your automatic bots no longer have to sound robotic. This feature offers pre-planned responses called macros. Support teams can share their macros, ensuring a quick, standardized, and human reply to similar customer requests.
Integration: This software integrates with hundreds of apps that you can find in the Zendesk Marketplace. This makes it easy for individuals to customize their support environment.
Tracking and measurement: Organizing and tagging emails helps you create customer support data. Use this data to gauge employee performance, gain insights about customers, influence product development, and make staffing decisions.
Omnichannel support: Visiting every channel to extend customer service is time-consuming. With Zendesk, you can hop between email, chat, phone, and social media.
Ticketing system: Zendesk's support ticketing system lets you collect customer requests from different channels and manage them in a centralized place. Bringing together requests from emails, social media, and websites makes it easy to track conversations and customer issues and respond to them on time.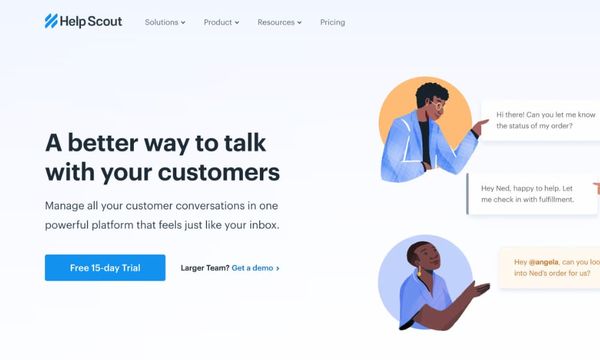 Help Scout
Help Scout is a powerful customer support software for collaboration, automation, and organization. It will keep your support process consistent and efficient. It's also easy to set up, so you can jump right in without waiting for admins to adjust the system.
All Help Scout tools are optimized for customer support. Features like private notes and collision detection show when an agent is working on a conversation, improving collaboration and reducing duplication.
Main Features
Automation: Help Scout can trigger automated emails when customers interact with your website, so you can provide them with personalized information and support, fast.
Knowledge Base: Create an organized library of articles that will help your customer self-serve for simple inquiries. It auto-generates sitemaps for your knowledge base and has SEO options that you can configure in each article.
Integrations: Help Scout integrates with several third-party tools, allowing you to expand your customer service strategy. For example, you can integrate CRM or ERP software to track customer histories and buy data.
Reporting: A pre-built dashboard helps you track individual and team performance. You can also create custom views of important metrics.
Customer management: The Beacon feature provides customers with a unique URL that helps them access your support center. This makes it easier for them to find the information they need without logging in or searching for it. You can also access previous conversations from other apps.
Email templates: Help Scout provides you with customizable email templates to help you respond to customer queries. You can also track which emails are most effective at converting people into paying customers.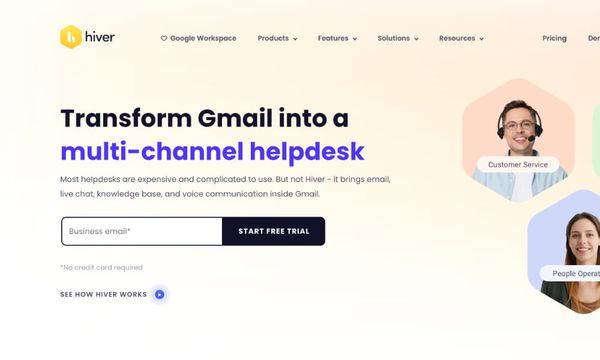 Hiver
Hiver is an email collaboration and workflow tool designed to help teams manage their inboxes more efficiently. This tool is the first help desk designed for Google Workspace. It lets users manage customer support and sales activities straight from Gmail. It has shared drafts, inboxes, and labels that simplify team communication and collaboration and streamline processes.
This tool provides a 360-degree view of team activities to teams that work remotely. Everyone can see who's working on what. Supervisors can track the progress of every query in real-time and assign tasks to team members automatically.
Main Features
Shared Inbox: Hiver's shared inbox feature allows you to assign emails to a specific team member or group. This makes it easy for teams to distribute work and collaborate on customer inquiries.
Chat Support: Hiver integrates with Slack so that team members can communicate directly from their inboxes without switching between different apps.
Email tags: Organize your business communications with color-coded tags that allow you to categorize, share, and prioritize conversations with colleagues.
Notes and mentions: You don't have to create CCs to collaborate with your teammates. Create notes for each conversation and use @ to tag and notify them.
Email tracking: Hiver's email tracking feature allows you to see when your emails are opened, how often they're read, and where they're being read. This helps you ensure that messages are received and read on time.
Integrations: Hiver integrates with popular apps like Salesforce, Trello, Slack, Office 365, and Google Calendar to give you a complete view of customer interactions.
Customer surveys: Add short surveys at the end of emails to measure customer satisfaction.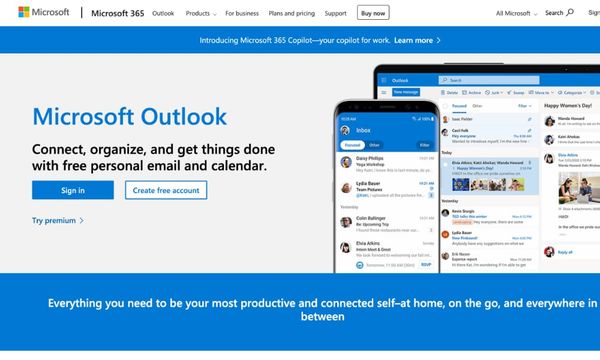 Microsoft Outlook
Microsoft Outlook is an email client designed to help users manage their emails more efficiently. Some of its basic features include preview pane options, flagging, email search, and color coding. This tool's calendar allows scheduling and notifies you when you're about to miss a deadline, meeting, or even a flight.
Microsoft Outlook supports multiple accounts, allows you to search for and organize emails, and offers automation features.
This tool is ideal for organizations looking for a scalable management feature. Solopreneurs can add single emails to the platform and add or remove individual email boxes to the software as their team grows. Microsoft Outlook lets you access your emails from multiple devices instantly, making it ideal for remote workers.
Main Features
Multiple Accounts: You can connect Outlook with multiple email accounts from different providers, allowing for easy alternation.
Search & Organize: Search for emails and organize them into folders and categories.
Email scheduling: Write emails before they're due and schedule them to be sent at the right time.
Rules & Alerts: Create rules and triggers so that Outlook can automatically categorize or flag emails as they arrive in your inbox.
Calendar & Scheduling: Schedule meetings directly from Outlook with its calendar feature, which also supports shared calendars.
Mail Merge: With mail merge, you can send out personalized emails to multiple contacts in one go.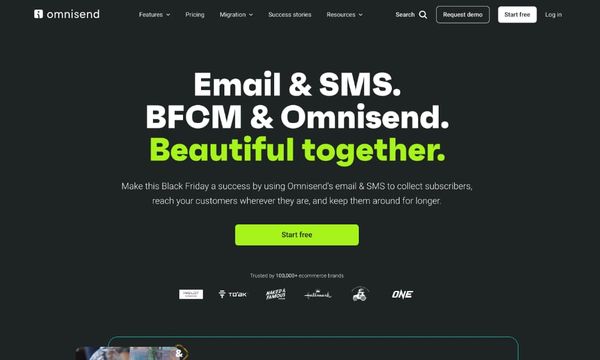 Omnisend
Omnisend is designed to help you automate and optimize your email campaigns. It automates marketing throughout the customer buying journey by sending the right email at the right time.
This email management tool also makes lead capturing easy with popups and landing pages that collect information the moment a customer visits your online store or website. Its many features make it easy to build compelling emails, track progress, and analyze results.
Omnisend helps businesses improve loyalty by sending follow-up messages and cross-selling offers to customers. It is ideal for businesses testing out various email campaigns as its A/B testing feature lets users test various email subject lines to see which one works best.
Main Features
Marketing Automation: Use predefined triggers to automate emails based on individual customer interactions.
Pre-built email templates: This tool has a library of templates that you can use to create and customize emails without coding. It also features a drag-and-drop email builder that remembers your brand elements, such as logo and color, and adds them to every email.
Customer data management: This feature provides contact data for every customer that you can use to personalize messages. This data includes customer lifecycle stages, message engagement, shopping, and on-site behavior.
Analytics & Reporting: Track and analyze your email campaign performance with detailed reports. This feature uses important metrics from sales dashboards, allowing you to make informed decisions.
Omnichannel marketing: Provide a consistent customer experience by combining emails, web, and SMS channels into one unified platform.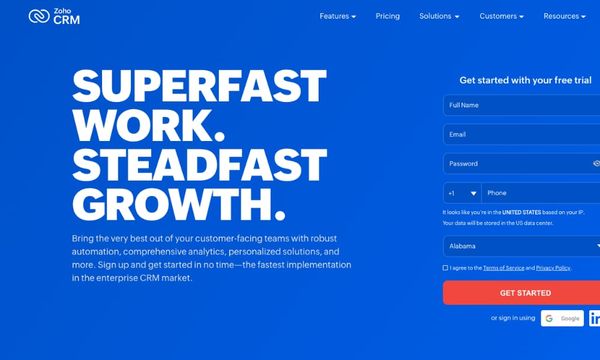 Zoho Mail
Zoho Mail is an all-in-one emailing solution for small businesses. It offers features like automated filters to sort incoming messages and the ability to schedule emails in advance. This tool has a clean design with an easy-to-use dashboard that allows you to access important emails and folders quickly.
Zoho Mail has an extensive control panel that makes it easy to update contact lists, keeping organizations in control over who accesses their emails. It has unparalleled security and privacy features like anti-phishing protocols that safeguard sensitive business information.
Main Features
Email suite: This feature allows you to break down tasks into manageable parts, add notes to emails, and organize contacts in one place.
Easy migration: This platform provides a one-click migration from major email providers. It also migrates calendars, contacts, and other data so you can quickly pick up where you left off.
Security: Zoho Mail has robust security measures, including secure encrypted connections, two-factor authentication, and optional private key encryption.
Email retention: Since your data is valuable, it makes sense that your email management platform keeps it. This platform keeps your emails under tight security and has an eDiscovery function that allows you to search for specific emails.
Collaboration: Zoho Mail has amazing collaboration features to improve your team's productivity. With the Streams feature, say goodbye to long email threads. Instead, users mention the people they want to invite to a chat and conduct discussions within the group before sending responses to clients.
Email groups: Efficient email group management boosts productivity. With Zoho Mail, you can create groups and send emails to multiple recipients at once. This platform has a flexible user interface that makes it easy to manage all groups.
Conclusion
Effective email management is essential for any business. It saves time, increases productivity, and helps ensure that important emails don't get lost. By using the tips above and implementing a great email management tool, you can create an effective system for managing your email that is tailored to your own needs.
If you're looking for an affordable, secure, feature-rich, and easy-to-use email solution, try Helpmonks! Our robust platform makes email management easy and enjoyable. With our team, task, and contact management features, you'll always be on top of your inbox and company communication.