Even though email is among the oldest forms of digital marketing, over 69% of marketers use it to share content, build customer relationships, and generate leads. Thanks to its power and versatility, email remains an effective marketing and customer support tool.
To keep up with the ever-growing demands of managing email campaigns, many companies now invest in email management software. These services provide access to various features that streamline and optimize all aspects of their email programs. This includes marketing automation tools, analytics data, and customer support.
Choosing the best email management service can take time and effort when there are so many options available. In this comprehensive guide, we discuss some of the top solutions so that you can make an informed decision.
What Are Email Management Services?
Email management services are online platforms that help businesses and organizations manage their email inboxes. These services streamline communication, increase efficiency, and enhance customer service.
Email management services work by providing an overview of all of a business's email inboxes. Stakeholders can swiftly evaluate customers' emails, then prioritize and revert promptly. Additionally, these services provide tools for filtering out spam emails and automatically replying with predefined templates.
Email management services are invaluable for businesses dealing with hundreds of emails a day. They save time by automating mundane tasks and increase efficiency by allowing you to focus on customer service. Additionally, they provide detailed analytics about the emails received, helping you understand your customers' needs better.
Best Email Management Services in 2023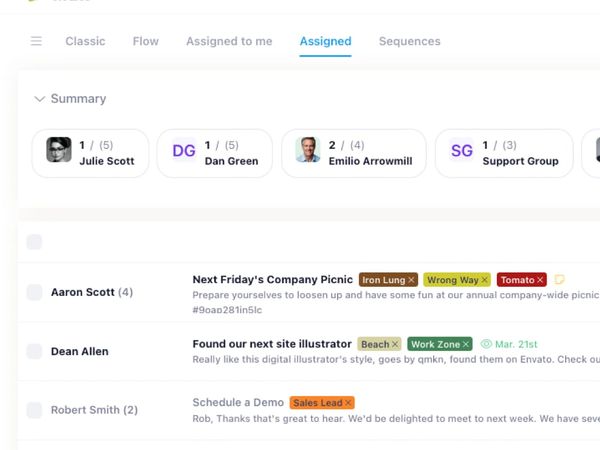 1.
Helpmonks
Helpmonks is one of the top email management services in 2023 for a good reason. It enables teams to collaborate and manage emails together, with shared inboxes, tasks, and team communication.
Helpmonks provides an intuitive user interface that is easy to navigate and use. This makes it ideal for teams of all sizes, from small businesses to larger enterprises. It also offers a variety of features and integrations to make email management simpler and more efficient.
Helpmonks' main features include:
Shared inbox:

This feature allows team members to collaborate and manage emails effectively. It provides an easy way to assign tasks, share files, and comment on emails.

Email marketing:

Helpmonks has tools to help you

create and send email campaigns

. It also provides analytics and reporting to track the performance of your emails.

Email sequences:

This feature makes it effortless to set up automated email sequences that keep your customers in the know about your new products and services.

Knowledge-Base: With the Helpmonks knowledge base, you can create a self-service portal for your customers. You can create public or private Knowledge-Base sites.
Live-Chat:

The Live-Chat feature helps you engage with customer in real-time. Combined with a knowledge base you can provide a help center on your websites.

CRM:

Helpmonks provides CRM integration so you can easily keep track of customer interactions. This ensures you can stay up-to-date with your customers and nurture leads more effectively.

Task manager:

The task manager feature allows you to create tasks from emails and assign them to team members. This helps ensure that all tasks are completed quickly and efficiently.

File sharing:

This email management service also provides file-sharing capabilities. This enables you to securely store and share files with team members swiftly.
Best For
Helpmonks is an all-in-one Customer Engagement Software and therefore best for businesses of all sizes. It is an excellent choice for teams that need to manage emails, collaborate on tasks, and share files.
2. Timetoreply
Timetoreply is an email management service for businesses of all sizes. It helps companies manage their customer communication more effectively and provides customers with better support. With Timetoreply, teams can track incoming emails in real-time, schedule automated replies to commonly asked questions, assign conversations to the relevant team members, and create custom inboxes for different departments.
The service also offers analytics and insights to help teams improve customer service performance. Timetoreply's dashboard provides detailed reports on email response time, response rate, and volume. It also enables you to identify trends in customer support needs with insights into the topics customers are asking about most.
Some of Timetoreply's key features include:
Real-time alerts:

This feature ensures you are notified whenever an important email arrives, or a customer is waiting for a reply.

Coaching prompts

: This feature provides advice and guidance to help team members improve their customer service skills.

Integrations

: Timetoreply integrates with various third-party tools such as CRMs, ticketing systems, and chatbots for a more comprehensive customer service experience.

Robust analytics:

Get detailed insights into customer support performance with Timetoreply's analytics dashboard.
Best For
TimetoReply is ideal for companies that need a comprehensive and efficient email management system to provide better customer service. It's also helpful for businesses that want to analyze customer support performance and identify areas of improvement.
3. Shift
Shift is another email management service that helps busy professionals organize their inboxes. Shift is designed to be simple and intuitive, so users can start managing emails in minutes. The service lets you connect multiple accounts like Outlook, Gmail, IMAP, Yahoo! Mail, and more from a single dashboard.
Shift also has options for setting up filters and rules to streamline the organization of incoming emails. Users can set up notifications to receive emails from specific senders and create folders for categorizing emails by project or topic. Secure encryption ensures that users' data is safe and protected.
Some of its main features include:
Custom notification

s: This service allows you to set notifications for emails from specific senders so they never miss critical communications.

Powerful search tools:

Users can search through their emails quickly and easily using Shift's powerful search engine.

Manage multiple accounts

: With Shift, you can manage multiple email accounts from one place. This saves time and makes it easy to stay organized.

Integrations:

Shift integrates with many popular third-party applications, like Zoom, Slack, Asana, Trello, and more.
Best For
Shift is a great tool for productive professionals who want to stay organized and in control of their inboxes. Companies of all sizes can benefit from using this service to keep their email communications organized and secure.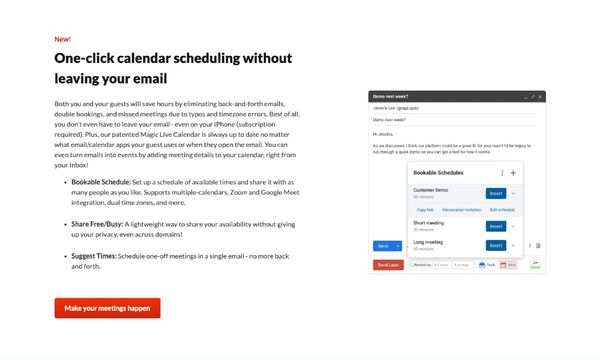 4. Boomerang
Boomerang is a popular email management service used to manage emails in Gmail and Outlook. It helps you easily track, respond to, and schedule emails on your own terms.
This service has an intuitive user interface and provides several helpful features. You can schedule emails to be sent at predetermined times, track email opens and clicks, set up read receipts for when an email has been opened, defer messages until later in the day, create follow-up reminders, snooze emails from their inboxes until they are ready to act on them, and much more.
Boomerang's main features include:
One-click calendar scheduling

: With one click, you can easily schedule emails to be sent at any time in the future.

Email tracking and read receipts:

Boomerang allows you to track when your messages are opened and clicked on, as well as set up read receipts so you know when an email has been seen.

Follow-up reminders

: This feature allows you to create a reminder to follow up on emails that still need to be responded to.

Snooze feature:

Boomerang's snooze feature allows you to temporarily remove emails from your inboxes until you're ready and willing to take action on them.
Best For
Boomerang is best for busy entrepreneurs, salespeople, or anyone who needs help with email management. Its features make it ideal for those who need to keep track of their emails, schedule messages, set reminders, track responses, and have an easy-to-use inbox.
5. Superhuman
Superhuman is an attractive option for those looking for an individualized approach to email management. With a unique blend of technology and personalization, Superhuman helps you optimize your emails quickly and efficiently.
The service starts with a customized setup process that allows you to specify preferences, such as when to send replies, how much detail to include in emails, and when you want the thread to end. With these settings in place, Superhuman works to ensure that users receive helpful notifications and reminders so they never miss an important email.
Some of its key features include:
Superhuman AI

: Superhuman's proprietary AI scans your emails and suggests replies, helping to reduce the time spent crafting thoughtful responses.

Calendar integrations

: Superhuman lets you quickly connect your calendars with your email accounts to ensure you never accidentally miss a meeting or appointment.

Smart scheduling:

Superhuman can automatically send emails at optimal times, allowing you to stay connected with your contacts without manually adjusting any settings.

Analytics

: This service also provides helpful insights about email activity so you can track progress and identify areas for improvement.

Snooze emails for later:

With this service, you can schedule emails to be sent later, ensuring they're delivered when your contacts are most likely to read them.

Read receipts:

Superhuman sends read receipts after emails have been opened, so you know exactly when someone has seen your message.
Best For
Superhuman is ideal for individuals and enterprises looking for a personalized and efficient way to manage their emails. It provides a comprehensive solution that helps users stay organized, connected, and productive.
6. Front
Front provides a comprehensive email management service that allows businesses to manage their inboxes with unprecedented efficiency. With Front, emails become organized and tracked from the time they enter the system until they reach their final destination.
It's easy to set up automated workflows for incoming and outgoing emails. In turn, this allows your team to respond to customer inquiries quickly and with greater consistency.
Some of Front's key features include:
Shared inbox:

With this solution, your team can manage all your emails from a single inbox. This allows for faster response times and improved collaboration among team members.

Integrations:

Front integrates with popular third-party services such as Salesforce, Slack, and Zendesk. This allows you to easily transfer customer information between systems.

Omnichannel:

Front's omnichannel capabilities allow you to manage your conversations across different channels, including email, SMS, WhatsApp, and more.

Customer data

: Front's customer data tools help you track customer interactions, allowing you to understand your customers better and tailor your responses accordingly.

Analytics:

With comprehensive analytics tools, you can track key performance metrics such as response time and resolution rate. This helps you identify areas of improvement and ensure that customers are being taken care of quickly and efficiently.
Best For
This email management solution is ideal for businesses of any size that need an efficient, reliable way to manage their inboxes. It benefits companies with a large customer base and multiple communication channels.
7. Hiver
Hiver is an email management service that offers businesses the tools to collaborate, streamline, and optimize their workflow. With Hiver, teams can manage emails faster, stay organized with shared labels, create powerful filters to automatically flag important conversations, assign emails to team members for actionable responses, and prioritize them based on urgency.
This service helps teams work smarter and faster, allowing them to focus on the more critical tasks. It also provides valuable analytics, enabling teams to track progress over time and determine which strategies are working best.
Some of its main features include:
Email tracking

: This allows teams to see who opened an email, as well as when and how many times it was opened. It also allows users to set reminders for important emails or conversations that need a response.

Shared labels:

Users can create shared labels so team members can quickly organize their emails and collaborate more efficiently.

Email tags

: This allows users to add tags to emails so that they can be easily tracked and managed.

Automatic filters:

Hiver's artificial intelligence-based filters automatically flag incoming emails for quick and easy categorization.

Email delegation:

With this feature, users can assign any email conversation directly to a team member for actionable responses.

Analytics

: Hiver provides insights into the team's progress over time by tracking metrics such as email throughput and response time.
Best For
This email management service is best for businesses looking for an efficient way to collaborate, streamline, and optimize their workflow. Individuals can also benefit from the automation, analytics, and other features this service provides. One thing to consider is that Hiver is only available for Google Workspaces.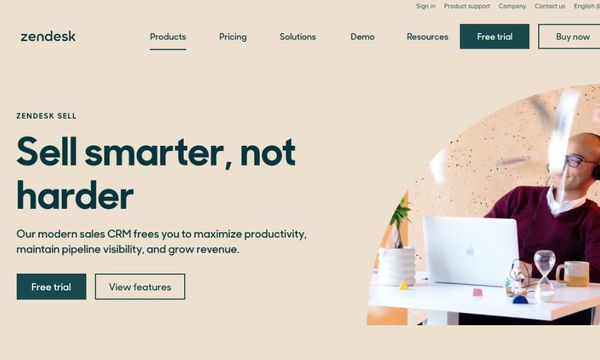 8. Zendesk
Zendesk is an easy-to-use email management system designed to help organizations handle customer queries quickly and easily. Its dashboard allows managers to see all conversations in one place, so they can promptly respond and prioritize tasks.
It also has customizable ticket queues so emails can be organized by team or customer for better tracking.
Zendesk offers powerful tools such as automated ticket assignment, task management, and customer insights all in one platform. With its intuitive design and powerful features, Zendesk helps organizations stay on top of customer emails and provide exceptional service.
Like Helpmonks, it eliminates the need for multiple email accounts by allowing all team members to use one unified mailbox. Zendesk's main features include:
Customizable ticket queues

: Tickets can be organized by department or customer for better tracking and response times.

Automated ticket assignment:

Automatically assign tickets to the right team member according to criteria like urgency, category, or priority level.

Task management:

Teams can stay organized and on top of customer emails.

Customer insights

: Gather insights into customers' behaviors, preferences, and trends to better understand their needs and tailor services accordingly.

Unified mailbox

: This eliminates the need for multiple email accounts by allowing all team members to use one unified mailbox.

Advanced AI:

This enables the system to automatically assign tickets, prioritize tasks, and suggest new solutions based on customer feedback.

Integrations

: Zendesk seamlessly integrates with third-party applications like Salesforce and Slack for improved workflow.

Reporting and analytics:

Detailed reporting features allow managers to monitor performance and gain insights into customer needs.
Best For
Zendesk is an ideal email management solution for businesses of any size, from small to enterprise-level organizations. It's also suitable for customer service teams, as well as sales and marketing professionals who need to stay on top of customer emails.
9. Yesware
Yesware is a comprehensive email management service designed to help users optimize their workflow and maximize efficiency. It offers businesses a range of features, such as real-time email tracking, automatic reminders to follow up with contacts, and the ability to create customizable templates for quick responses.
Yesware also provides an intuitive user interface that makes it easy to use its tools on both desktop and mobile devices. With Yesware, you can stay organized and on top of important tasks while connecting with your contacts.
Some of its key features include:
Automatic reminders:

Yesware allows you to set automatic reminders for yourself and for other team members to follow up with contacts. This feature ensures that important tasks don't slip through the cracks and remain top of mind.

Customizable templates:

Yesware provides customizable templates for quick email responses, which reduces the time spent crafting individual replies.

Meeting scheduler:

Yesware's meeting scheduler makes it easy to organize meetings with contacts. You can easily create and send appointment requests, track responses, and sync all events into your calendars.

Reporting and analytics:

Yesware also offers reporting and analytics tools that allow you to measure email performance.
Best For
Yesware is an ideal solution for any business looking to streamline email management and track its performance.
Conclusion
Finding the best email management solution for your business can be tricky. But with the options outlined in this article, you should be able to identify the solution that best fits your needs.
Understanding how different email management services work and what features they offer can help make the decision easier. Therefore, test as many services as possible, compare their features and pricing, and decide on the one that helps you manage your emails most effectively. With the right email management service in place, your business can become more productive, efficient, and profitable.
If you need an advanced email management service to streamline customer support and keep your team organized, Helpmonks is your best bet. It provides comprehensive features that help teams easily manage multiple customer conversations in one unified inbox.