We are incredibly excited to announce that the Helpmonks Progressive Web Application (PWA) is now available. The Helpmonks PWA "installs to your home screen" on mobile devices, installs as an "application" on all operating systems, and allows for native notifications.
However, before you go about "installing" the Helpmonks PWA, we want you to be aware of how PWA's work and their limitations. PWA's are a type of mobile app delivered over the web and are built using standard web technologies like Javascript, CSS, etc. While PWA's work in the browser, they allow "app-like" features such as being independent of connectivity, install to the home screen and push messaging dependent on browser support.
Given the above, the Helpmonks PWA is deployed automatically on your desktop browser and does a lot of the hard work in the background. We've implemented the Helpmonks PWA background features in the recent weeks to our servers, and you should have already experienced a more performant Helpmonks because of it.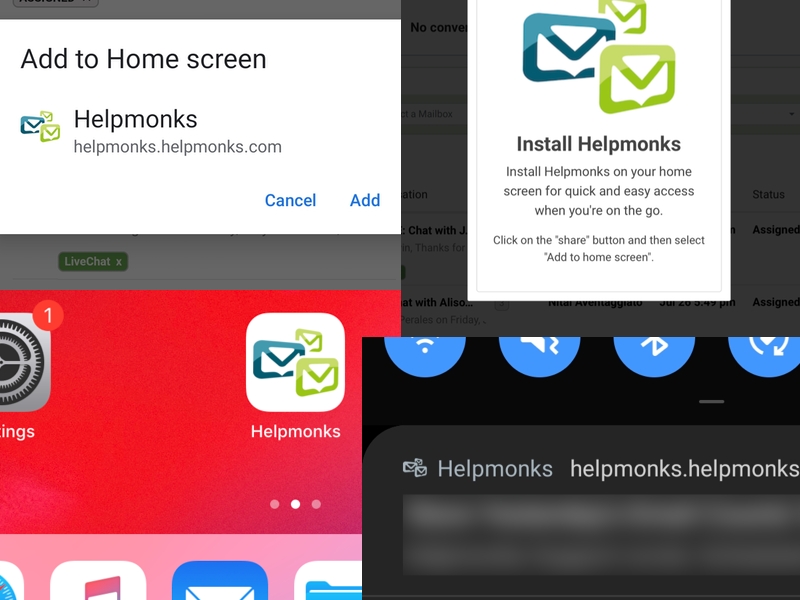 Helpmonks PWA on your desktop
If you want to deploy Helpmonks as a standalone application on your desktop, all operating systems are supported, you can do so with the help of Google Chrome. The current version (v75.x) already allows you to install applications. As of the upcoming Google Chrome version 76 (released on July 30th), you will also be prompted to install the Helpmonks app within Google Chrome.
In addition to the installation, you will also receive native desktop notifications, independent if the application being in the foreground or not.
You can read more about this on our Helpmonks PWA desktop how-to page.
Helpmonks PWA for your mobile device
The most significant benefit of the Helpmonks PWA is that it can be installed as an app on your mobile device. Depending on your mobile device, Apple's iOS or Android, the Helpmonks PWA can (almost) provide a native experience for you.
Helpmonks PWA for your Android
When you visit your Helpmonks account in Google Chrome on Android, you will be prompted to "add Helpmonks to your Home screen" automatically.
The significant advantage of the Helpmonks PWA on Android is that it will send you native notifications just like any other app on your phone. Also, due to how PWA's are implemented on Android, your whole Helpmonks account is being cached locally, making it an almost native experience.
Please see our Helpmonks Android PWA how-to page for further help and information.
Helpmonks PWA for your iPhone/iPad
Apple's implementation of the PWA technology is unfortunately behind (but they are catching up). Hence, there is no automated banner to install the Helpmonks app and unfortunately, no native notifications.
Nevertheless, when you visit your Helpmonks account with your iPhone or iPad, you will see the option "add Helpmonks to your Home screen." Adding Helpmonks to your home screen will cache your Helpmonks account on your device, making your experience much faster.
Please see our Helpmonks iPhone/iPad how-to page for further help and information.
New notification settings
Together with the Helpmonks PWA release, we've made two improvements to the notification settings. One is that you can now toggle a global "do not disturb" switch, which mutes all notifications across all devices. Additionally, you now have a setting for the "Tracking" notification (which previously sent out a desktop notification by default).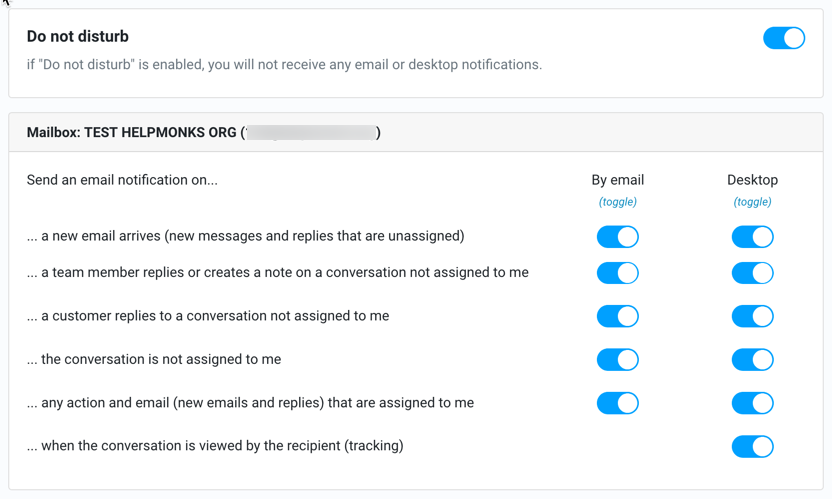 Exciting times are ahead
We've been testing the Helpmonks PWA for several weeks now and have already seen the benefits of a "native" Helpmonks experience.
While we developed the PWA, we've continuously enhanced the mobile feature set of Helpmonks further. So, much so, that you have the same experience and features, independent of which device and desktop you choose to use.
While features of the Helpmonks PWA are highly dependent on the underlining system, Android taking the number one spot, operating systems are not far behind. With the help of Google Chrome, every desktop can now install the Helpmonks app natively.
We are continuing to enhance Helpmonks and continue to improve the workflow for your shared inbox. We hope that the addition of the Helpmonks app will help you to get your job done even better than before.
As always, we are looking forward to any feedback from you.
Thank you for using Helpmonks and being a customer.