Imagine this: you replace all your employees with robots. Every time a customer reaches out, they're going to get an automated response. You save money and time while you help more customers at once.
Doesn't that sound great? We hope not.
Many people picture this kind of future when they think about customer service automation. Thankfully, this is not the reality.
Customer service automation requires a delicate balance of real people and automated systems. Using too much of either element can hurt your business.
So, if you're looking to learn more about customer service automation and how to do it the right way, keep reading.
What Is Customer Service Automation?
Customer service automation refers to the process of reducing human touchpoints. It aims to reduce the need for human involvement when providing help to customers.
Some definitions include the complete elimination of human involvement. But, we don't believe that that is the right way to go about the automation of customer service.
When it comes to customer service, businesses need to find the balance. The goal is to understand a customer's needs and provide help to meet those needs.
Sometimes, a human better meets these needs. Other times, customer service automation AI better meets these needs.
The key to good customer service is to meet customer expectations by matching internal support skills to customer needs. If your business matches these things well, then you've succeeded.
What Does Customer Service Automation Do?
The point of customer service automation is to get rid of unnecessary human interactions. Note that we've included the word "unnecessary."
Many interactions require human-to-human contact. But, not all interactions need this.
In fact, some processes are easier without having human-to-human touchpoints. Sometimes, the customer has an easier time with an automated system than with a human customer service agent.
All in all, customer automation is supposed to make building relationships with customers easier. Automation does not remove the need for customer relationships.
To, you need to figure out what processes are better done alone. Finding this balance involves the following:
Creating and implementing customer self-service portals
Giving customers access to knowledge bases
Composing preloaded email replies
Creating canned responses
Implementing organizational automation through "if this, then that" logic
Investing in live chat
Investing in chatbots that customer service agents can oversee
Immediately assigning customer requests to the right person in the right department
Considering artificial intelligence and machine learning
As you're automating more and more processes, you should make sure not to overpower your systems with AI systems. Let humans take over where they are most needed.
Automated Customer Service Examples
You need to balance human interaction and automated systems. This will create quality customer service experiences.
Unfortunately, businesses that are new to automation have trouble determining the best strategy. They don't know how to balance the two.
If you're looking for ways to use automation for customer service, there are plenty of examples to look towards. Let's look at some of the best ways to install customer service automation.
1. Self-Service
When your customers have a question, they want immediate answers. They don't want to sit on hold for five to ten minutes. They want to be able to find the answer online without speaking to a team member.
That's why so many companies have started providing a self-serve online library. Providing an online resource like this to your customers will help them get the answers they need when they need them.
In turn, self-serve options reduce the volume of calls that your support team. At the same time, you'll be increasing customer satisfaction.
To create a knowledge base, you're going to need to gather the questions that people ask repeatedly. Talk to your customer support team and talk about what the most repetitive questions are.
Include these questions and the answers associated with them in the knowledge base. Customers that have these questions are now going to be able to find the answer that they need online. Plus, your customer support team doesn't have to answer the same question 30 times a day.
Some companies invest in software to help them present all this information. Other companies include an FAQ section within their website.
Either way, you should make sure that you've organized everything adequately. Your customers should be able to find the information that they need.
Make Finding Answers Easy
Don't hide away the knowledge base that you've created. Make the customer's access to this platform obvious.
Many organizations choose to present their knowledge base in the form of a chatbox on every page of their website. Others include the knowledge base in a sidebar. Others make their knowledge base a popup.
No matter what method you choose, you should make sure that the knowledge base is obvious to all your customers. If a customer calls your business before visiting the knowledge base, you aren't making it obvious enough.
Searching Should Be Natural
Search engine optimization is at the heart of every website page. Even if the page is a part of your knowledge base, you need to optimize it for search engines like Google and Yelp.
Customers are likely to search their questions about your business online using these search engines. They aren't likely to hunt for answers on your website unless they already happen to be looking at your website.
So, you need to make sure that your answers show up when your customers search outside of your website.
We also recommend keeping your knowledge base under your company's domain name. This is so that your answers are more likely to show up on search engines through branded search.
Of course, you should also make sure that customers can search for answers when they're on your website as well. You should make it easy for customers to find what they're looking for. This is whether it's a search bar on Google or your website.
When people are searching on your website, they are expecting an experience like they get when searching on a search engine. This means that they want to see autocomplete search terms and suggestions based on search.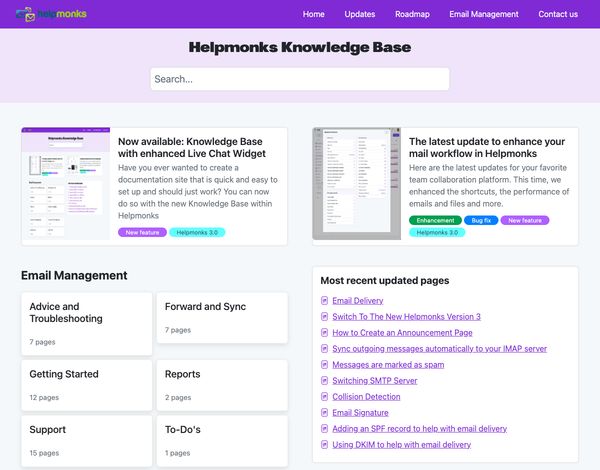 Put the Customer Experience First
As you're creating your knowledge base, you need to make sure that you're thinking about the customer experience. Just like you'd spend time creating your website, you need to spend time creating your knowledge base.
Think about the kind of experience that your customers want while they're visiting your knowledge base. What kind of improvements would make their time online better?
First off, think about how you're organizing your information.
When your customers enter your knowledge base, they should see the most common questions. These are questions that other customers have been searching for. This will help most customers find their answers faster than they would by using the search bar.
Once your customers select the question that best aligns with theirs, they should see a full page of information. Plus, they should see relevant videos, images, and other interactive elements.
The more information you give consumers, the more likely they are to become customers. Don't feel like you're making the answer too complicated by adding details. Place subsection headings to break up information so that searchers can find exactly what they need.
Pay Attention to the Numbers
As your current and potential customers are using the knowledge base, you need to pay attention to the metrics. By looking at the data and numerical reports, you can figure out what elements are and are not working.
You can see what kind of search terms visitors are using and whether these individuals were able to find what they were looking for.
To keep up with these analytics, you should allow your customers to give their opinion. You may be familiar with the 'thumbs up, thumbs down' kind of rating system. These are effective and efficient ways for readers to give their opinion about the article and let you know if the information was helpful.
To keep up with how well your knowledge base is doing, you should invest in an AI-powered knowledge base. The more intelligent your knowledge base is, the more you'll learn about what information your customers are looking for.
Offer Human Support
If a customer is having trouble finding the answer that they need, you should make further support accessible. Whether it's through a conversation on a chatbox or an old-fashioned phone call, your customer should be able to contact a human.
Within the article, you should allow the customer to contact customer support. You may show the phone number, include a link to open a chatbox, or share an email address. The more contact options you offer, the more likely a customer is to reach out for help.
2. Centralization
In order to make communicating with your customers easier, you need centralized emails. Investing in software with a shared inbox will help your team keep track of all of the conversations that are ongoing with customers.
Plus, centralized communication makes it easier to maintain customer relationships overall.
Integration
Integrate all of your communication channels. Unifying all of these conversations and platforms makes it easier for your customer support team. They can address and reply to inquiries across all platforms.
They won't have to sign into each of the individual accounts. Instead, they can sign into one platform that gives them access to all of the necessary platforms.
Organization
To make the process even easier for your employees, you should automate the organization of your communication. This means sectioning off the kinds of questions that are coming in from consumers.
By organizing inquiries, your customer support team will be able to funnel through questions easier. They may be able to copy answers for repeat questions or focus on one subject at a time.
Automating this process takes the pressure off of your customer service team. At the same time, it speeds up the response process and improves customer engagement and the customer experience.
Collaboration
When customer inquiries are specific, your system should send the message to the specific person that can answer the question.
For example, a consumer may have a question for the sales department. If everyone receives the question, it will take longer for the customer to receive their answer. But, the customer will receive an answer quickly if the sales department receives the question directly.
Canned Replies vs. Autoresponders
Canned replies are one of the worst parts of customer service. These are automatic messages that include ticket numbers and impersonal notes. Sometimes, these responses ask the customer not to respond to the email.
Because of these kinds of emails, automatic responses developed a bad reputation. But, canned replies are different than autoresponders.
Autoresponders are the right way to approach customer service automation. In contrast to canned replies, autoresponders are useful. They give value to your customers rather than wasting their time.
For example, a canned reply would tell the customer to wait for a reply while an autoresponder would tell the customer when they can expect a reply. In fact, helpful emails may also include links to the knowledge base. These links may help the customer faster than you can respond to their email.
Also, referring to the customer by name gives the customer more confidence in his or her relationship with the customer. He or she is more likely to trust the company if they feel like the company is reaching out to them personally.
Knowledge Base Software
Mastering customer service automation can take several years. But, there is one thing that can help any company learn more about how to improve their customer service: knowledge base software.
With helpmonks, you'll be able to improve your customer experience strategy. In turn, our software can help you develop a successful customer service automation strategy.
You'll have proper analytics and an organized communication system with helpmonks. Then, you'll be able to take your customer service to the next level. Plus, you can improve customer relationships and increase revenue.
Get started with a free trial of helpmonks today!